4000 Post Club
Staff Member
Messages

4,277
Likes

1,023
Location
"Even with a long list of aftermarket parts, this big turbo Fiesta is still a blast to drive in the canyons."


Oct 31, 2016 - R&T and TheSmokingTire

http://www.roadandtrack.com/car-cul...d-methanol-injection-has-over-300-horsepower/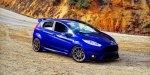 Out of the box, the
Ford Fiesta ST
is quite the fantastic package. Its light weight and peppy nature make it one of the best hot hatches on the market. However, this owner didn't think 197 ponies was enough for his Fiesta, so he slapped on a big turbo and methanol injection, and it now makes an outrageous 300 horsepower to the front wheels.
Matt Farah of
The Smoking Tire
got the chance to take this heavily customized Fiesta ST on a spirited trip through the canyons in his latest One Take. The laundry list of aftermarket modifications include H&R springs, chassis bracing, a larger intercooler, and a host of engine mods, enough to propel the little hatch to a 12.9-second quarter mile time.
But despite the 50 percent increase in power, Farah discovers the car doesn't really hamper the pure Fiesta driving experience. It's still a joy to throw around corners?just with a lot more speed.
[HR][/HR]

300 WHP Big Turbo Ford Fiesta ST - One Take (Video)
https://www.youtube.com/watch?v=zXFmDtf42Sw
[video=youtube;zXFmDtf42Sw]https://www.youtube.com/watch?v=zXFmDtf42Sw[/video]
Published on Oct 31, 2016 - TheSmokingTire

We have lots of experience with bolt-on parts for the Fiesta ST after our COBB-Tuned long-termer, but this is a horse of a different turbo. This Fiesta ST has an upgraded turbocharger, and a massive list of aftermarket engine and power adding parts resulting in an almost unbelievable 300 horsepower at the wheels. It's an absolute riot to rip through a canyon.