Messages

71
Likes

29
Location
I have had to replace my cruise control switch (the blue one on the brake pedal under the dash) twice since the start of the year, and it's still August. It was also supposed to have been replaced a year ago, too.
I have swapped this switch because it appears to give me brake problems. The first and third switch replacement was to solve dragging brakes. The second switch replacement this March fixed vague brakes (
see this thread about that whole saga
).
I don't know how I keep killing these switches. I bled my brakes often; I have spent about 10 weekends a year at racetracks doing laps for the last 3 years and I only upgraded to bigger brakes in July. If I need to add one of these switches to my usual brake service parts that's okay, a new switch from Rock Auto is $5 plus shipping. But I would rather figure out how to fix the underlying issue it at least why these switches die on me.
Had anyone else replaced their cruise control switch more than once? If I only had to do this once I wouldn't be as concerned, but this is a ridiculous service interval for a brake switch.
Attached is a picture of the switch I pulled out from under my dash (left/bottom) and a fresh one (right/top).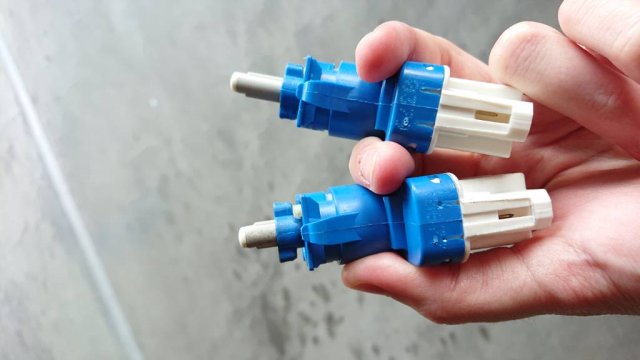 Sent from my H8314 using Tapatalk
Last edited: