What's up folks.
Thought I'd share some thoughts, we have a great X47 thread elsewhere but I'm putting everything here in one long post to give others a no BS review from a skeptic. Also included will be some install pointers, part lists, etc. I spent hours researching before this upgrade so here you have all my 411 in one convenient place. Hope it helps some folks considering this turbo.
This fall when the weather is cooler with less humidity (it's in the 90s here with near 100% humidity down here in Georgia now…Walking Dead weather…) I'm driving to TopSpeed in Atlanta to get a real dyno. Once I do I'll post for sure.
Here we go.

WHY X47 WHEN I SWORE AGAINST IT FOR A YEAR?
Some of you might remember I argued strongly for the merits of a stock turbo setup for my first year of ownership, citing the donkey kick personality of the car as reason to keep the stocker. My previous build (STi 297/337) was big turbo power and I was so enjoying the "slow car feels fast" contrast with the FiST that I thought going cyborg/big turbo wasn't for me.
However the truth is after 18 months of ownership I began to accept that my car was slow and could barely keep up with a Camry. So I began reading the turbo upgrade forums and considering. The deal was sealed when a local FiST owner [MENTION=4142]SwAp GaS[/MENTION]) was selling his X47 and a few other parts. He graciously offered to guide the install (he ended up doing most of it while I tried to keep up) which sealed the deal. I had to sell my hammered dulcimer and a few other things since I only buy mods cash, but I was able to quickly scrape together the money and it all worked out well for me.
HARDWARE ADDED?
For this install, coming from a custom-tuned car with the bolt-ons (CAI, big mouth, CBE, FMIC), I added a catted downpipe, WGA, one step colder plugs, and a ported manifold. Had I done my research I'd have also added the GoFastBits DV+ diverter valve, but I didn't. One is on the way and will be installed soon.
PARTS LIST?
Here it is all in one place…it's a bit confusing because as Daniel and I discovered on install, even with 2 2015 FiSTs the hardware is different. His car had an earlier build date and had turbo to downpipe studs/nuts, while mine had a later build date and had turbo to downpipe bolts. Luckily I noticed that both parts were called for so I bought them both.
Here is a complete parts list which ran me $111 at the dealer (much cheaper than anywhere online, I checked):

BM5Z-9448-A
Manifold Gasket, qty. 1
W702586-S437
Catalytic Converter M8 Stainless Steel Manifold Nut, qty. 6
W715309-S300
Manifold Stud, qty. 6
AM5Z-9450-A
Catalytic Converter Gasket aka Downpipe to turbo gasket, qty. 1
4R8Z-6N652-A
Oil Outlet Tube Gasket aka Oil feed line gasket, qty. 1
BM5Z-9450-A
Turbocharger Gasket aka Turbo to manifold gasket, qty. 1
W711242-S300
Turbocharger to Downpipe Stud, qty. 3
W715974-S300
Turbocharger to Downpipe Nut, qty. 3
W715681-S900
Turbo to Downpipe bolt, qty. 3
The last 3 items are the ones you'll need one or the other – either the studs/nuts or the bolts. My car needed the bolts.
There are 9 manifold studs/nuts, I got only 6 as I figured all 9 wouldn't break. None did. But I got 6 for insurance.
I'd recommend ordering several weeks in advance. Luckily my dealer got me everything in 2 days. I went ahead and replaced most everything but you don't necessarily need every part there; I could have re-used most of the gaskets and some of the nuts/studs. I did have a few things leftover but only because they weren't needed, but did use most of the parts. I'll probably recover $11 of the above bringing my parts total to $100ish.
INSTALL?

As mentioned above a good man named Daniel offered to help install; little did I know he moves at light speed and is a perfectionist. I think he's swapped his own turbo maybe 5 times now so he was able, with me assisting with minor stuff, to do the entire job in 6 hours start to finish, including swapping the stock downpipe. Maybe that's why his username has "swap" in it. Anyhow, here are a few things I'd share:
A, Have all the right tools especially the 10mm ratcheting wrench.
B, Spray everything in advance…my car has 18,000 miles and except for one DP/CBE bolt which broke, every single bolt/nut came off easily.
C, Clamp the water line and you won't lose much coolant.
D, Put as much as you can back on the turbo before reinstalling, life will be easier.
E, The manifold heat shield believe it or not was the only thing that was a hang up. It sort of has to be bent a bit to remove, then bent again to replace. Seating the bolts was a challenge since it was a bit distorted but eventually all was well.
F, You might think I'm crazy but I pray about most things in my life and asked God to bless this install, and it was super smooth and fun, so remember like MC Hammer said you've got to pray just to make it today.
Again really I can't comment too much as Daniel did most of the work. I've swapped a number of headers and a turbo in the past once. I could have done this probably over a weekend by myself but I'd be bleeding and cussing by the end. I don't think one cuss word was uttered during the install. It's good to have good help!
DRIVING IMPRESSIONS?
Simply put, the car drives like stock (stock meaning stock turbo with full bolt-ons and custom tune) except now instead of dying off around 4,500-5,000rpms, it gets stronger. So the torque comes on differently. On stock turbo I'd shift around 5,000, now I shift closer to redline. The car is much faster. I bet it would pull 4 or 5 car lengths on an exit ramp if I could race my car with stock turbo. With the hot weather and humidity in Georgia now, plus the ECU still learning (only about 50 miles on final tune), I'm sure there is more to come. On stock turbo the fun gears were 2 and 3; now they are 3 and 4. I'm considering getting another tune tweak (slot 3 – the "wife tune") for my wife so when she drives the car she doesn't have to feather the throttle. So full power everywhere except in 1st and 2nd gear where power is limited so the tires don't spin. Then 2nd will be fun again, and more easily useable. The thing about flooring it in 3rd all the time is that by the time you are happily at redline and feeling the power you are doing 80+mph, and there aren't many places to do that safely and legally.
After one tank of gas, MPG is unchanged. Still getting 31-32 around town. I drive like grandma though when I'm not logging.
There are new noises; with all the parts I added that is expected. The CP-E intake was already a bit loud. The new setup added some nice midrange to the exhaust. Also present is the X47 whistle at 3,000rpm-ish which is pretty jazzy. I am getting some low-rev venting sound (a Gb note for all you musicians) which I hope to eliminate once I install my GFB DV+. It's very subtle but I hear everything. Doesn't affect performance, just a noise I'd like to not hear.
In terms of traction and torque steer, as many have said 1st and 2nd are useless beyond about 50% throttle. There isn't torque steer because there is too much power to torque the car; the tires just spin like crazy instead. I might get a 6-pt brace to replace my 2-pt brace, I've read that that helps. Also when my stock tires die I'm putting Federal 595 RSRs on the car which might help.
A few Vdynos are below. One compares stock to X47. The second is a collection of runs on the final tune revisions. Vdyno is a great tool but it is totally unreliable. Some folks think it's a good "apples to apples" control test but I don't believe that anymore. Some of the logs I took were hours apart (20 degree difference in temp resulted in big hp/tq changes) but some of them were only a few minutes apart on the exact same road and still there is significant discrepancy. So all this is just for fun. Like I said above I'll be getting a dyno done later this fall when it's cooler, it will be a few months but I'll post here whenever I do.
Car is running on Shell 93 octane. I'm expecting around 280/290.
CONCLUSION
Well, I swore by the stock turbo and here I am. In the end, the car isn't really that much more fun around town during everyday driving. The reason for this is the power change is one that you experience after 40mph, hence all the videos Ishmael did from "40 roll..." on YouTube. However this is a great upgrade if you want some real power for those stretches of road that you can use it. The personality of the FiST is such a unique one; this upgrade puts it in a whole different category because now you have that fierce little scrappy package with a big surprise when power is needed. I'm pretty sure as it is now the car could keep up with some real sports cars fairly well until around 80mph. Most of us probably bought the FiST because we liked the spunky nature of the car. Well, this upgrade puts turns it up to 11 and makes the car feel like it's on steroids. It just goes way faster than a 1.6 liter car that weighs 2,700 pounds should. It's really insane. Whether or not I can pull ahead of car X or not, the fact that I can challenge a V8 pulling onto the interstate is a mighty accomplishment. So the car goes from "the slow car you can drive fast" to "the formerly slow car that now really is way faster than it should be". The X47 upgrade takes that personality of the car we all know and love and takes it to a new level. It's gone from the Rocky in Rocky 1 (underdog that we all know won't win but gives his best) to the Rocky in Rocky IV (underdog that we all know won't win but does win). Bad analogy, the first movie was much better...but in this case I really feel that the car as it is now, like it was in stock form, is still a true winner. And considering that you can get a used FiST right now for $15,000 and put about $3,000-$5,000 into it depending on parts (new/used/brand...with Vargas and MRX around many are selling X series soon...) to get to this level of performance, it's easily among the most economical and probably most fun options out there if you want a giant killer.
*****
Thanks for reading.
Pics of Vdynos: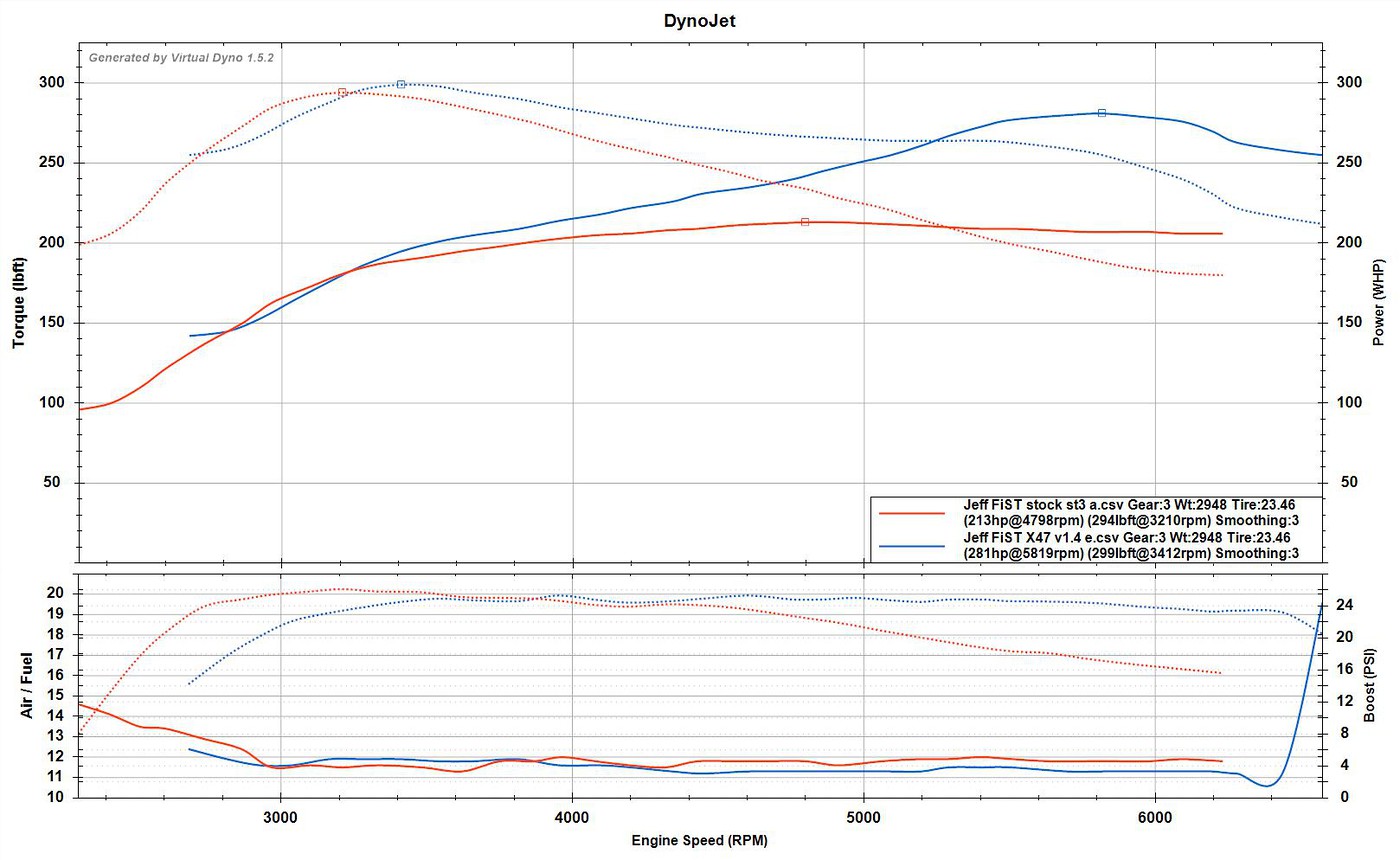 Hosted on Fotki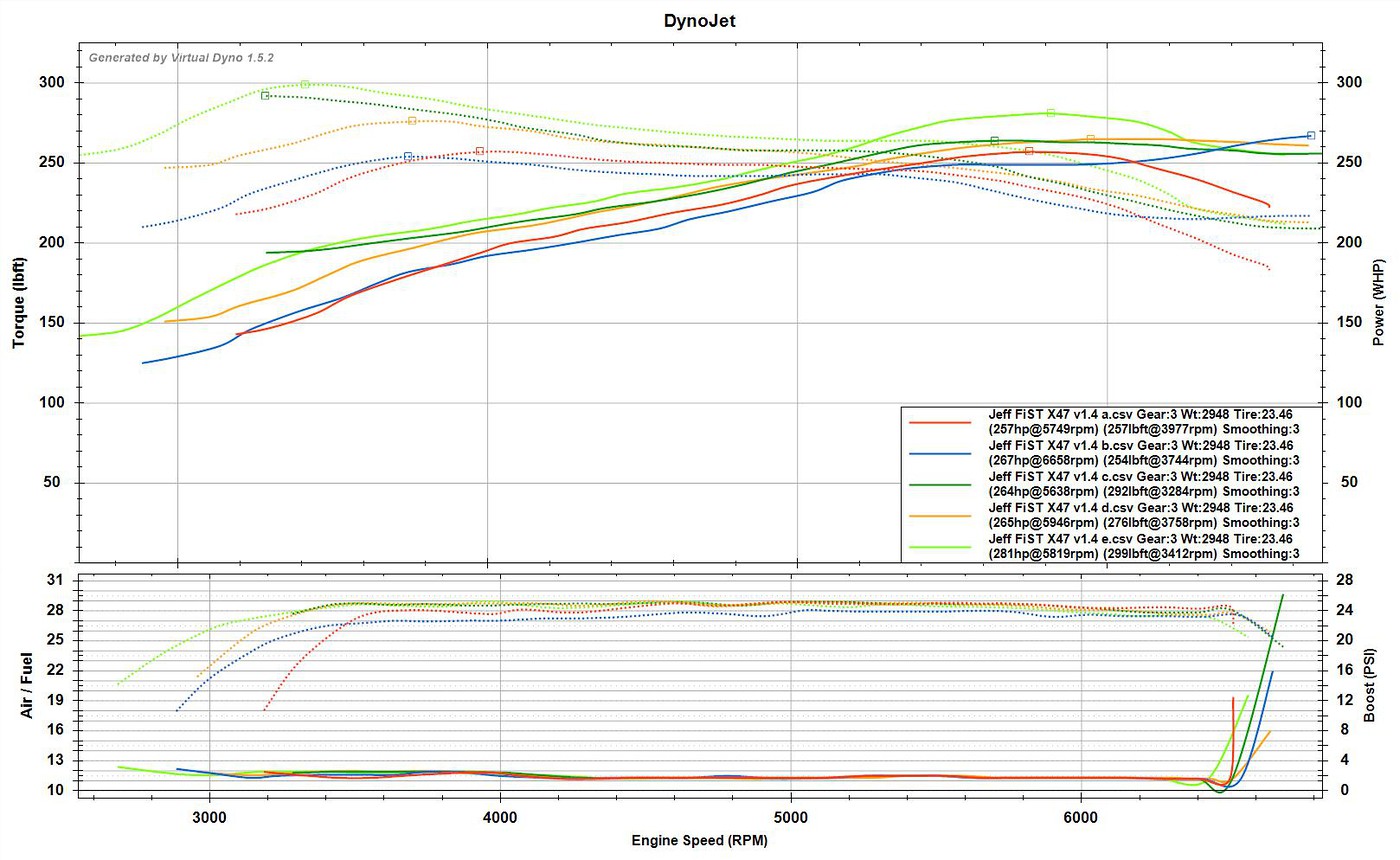 Hosted on Fotki
Pics of turbo install and other fun: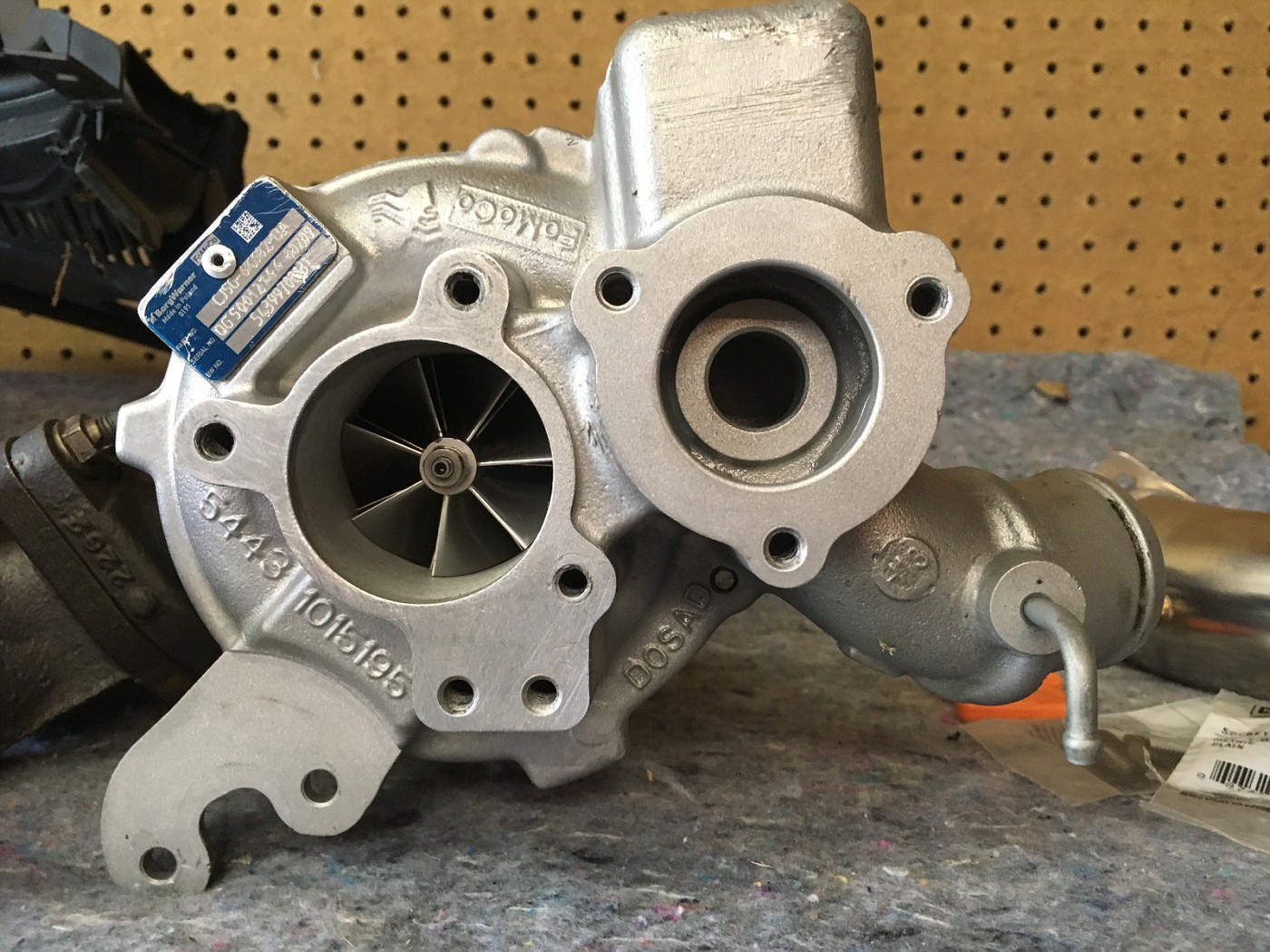 Hosted on Fotki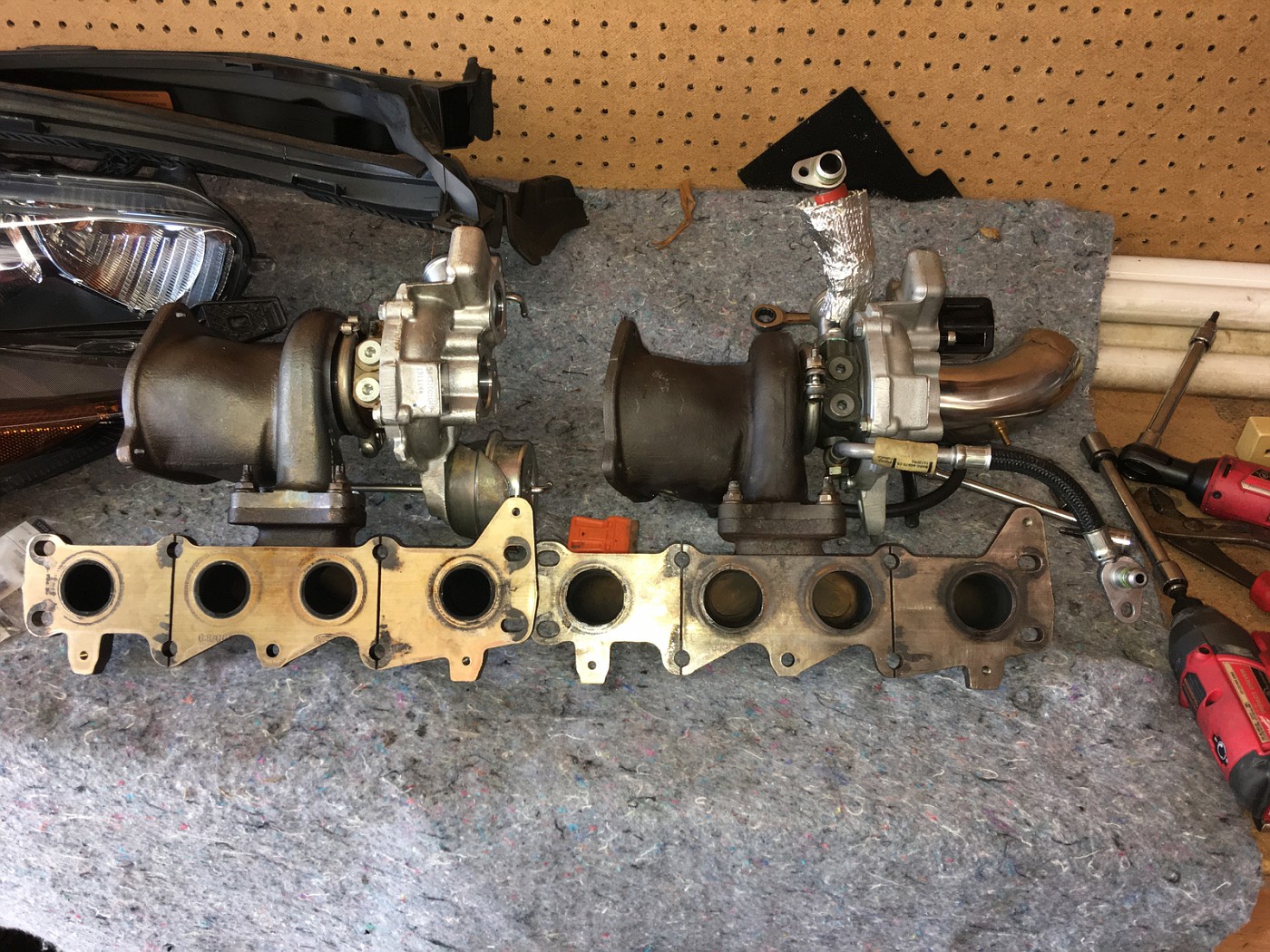 Hosted on Fotki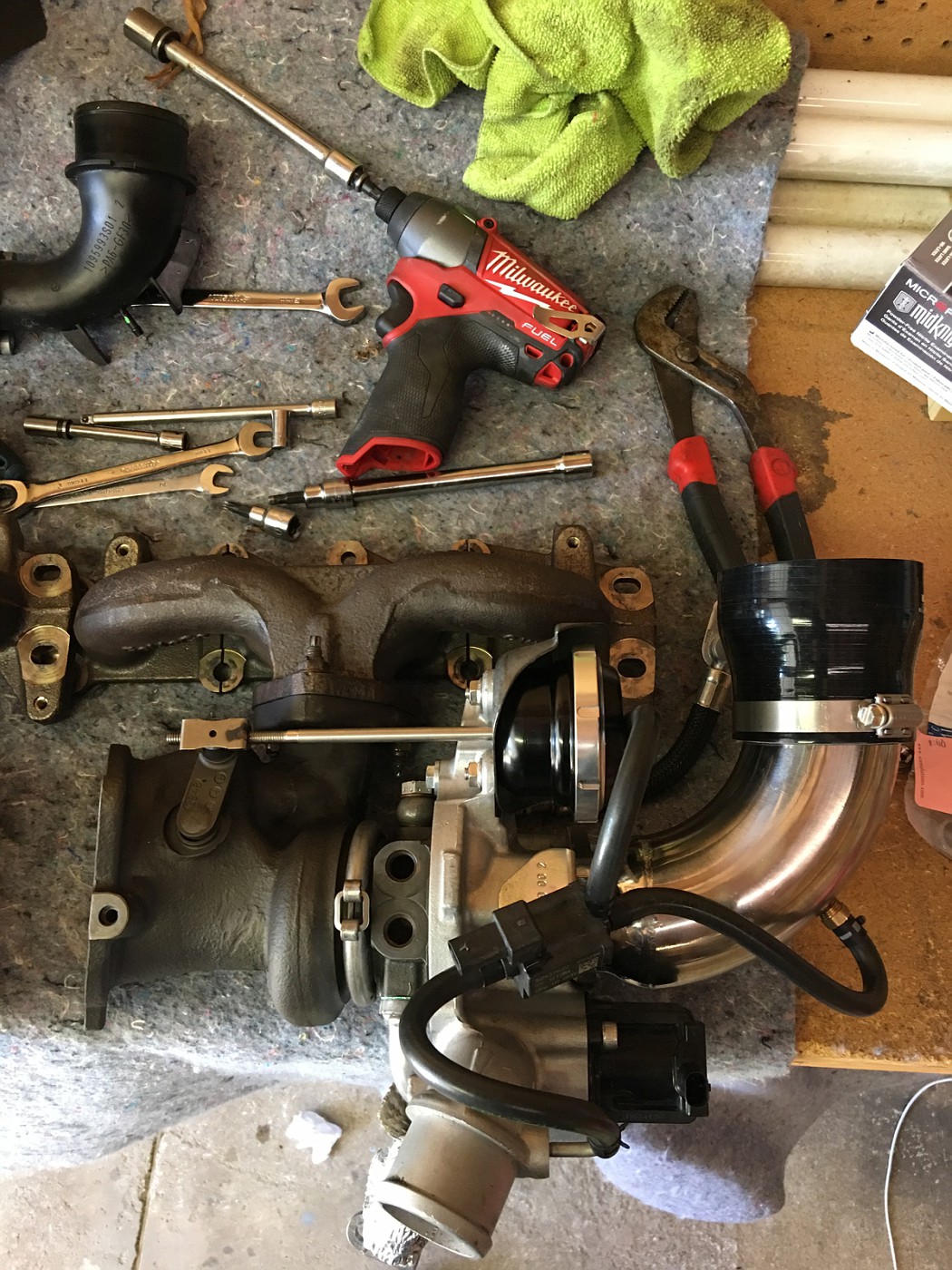 Hosted on Fotki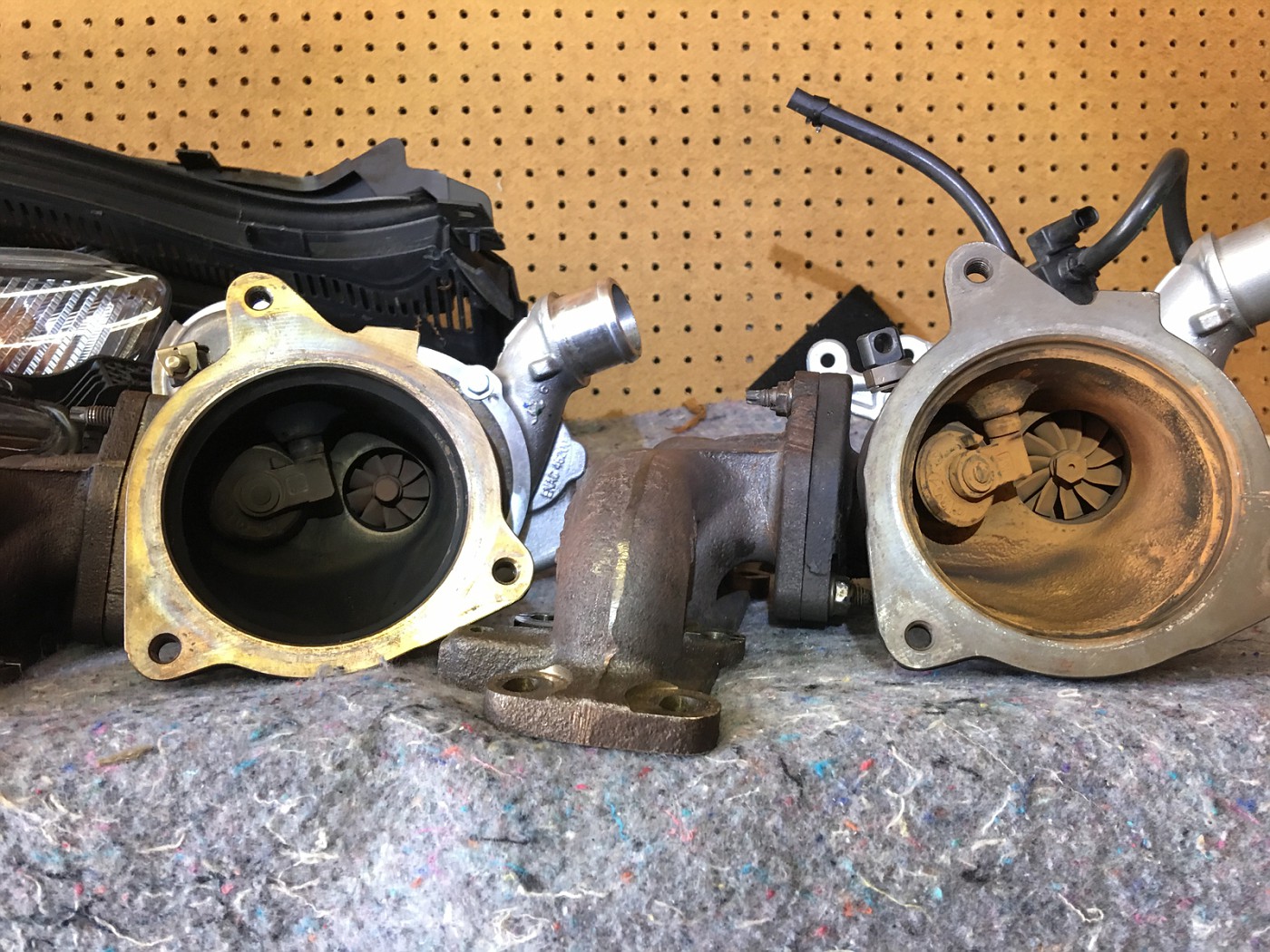 Hosted on Fotki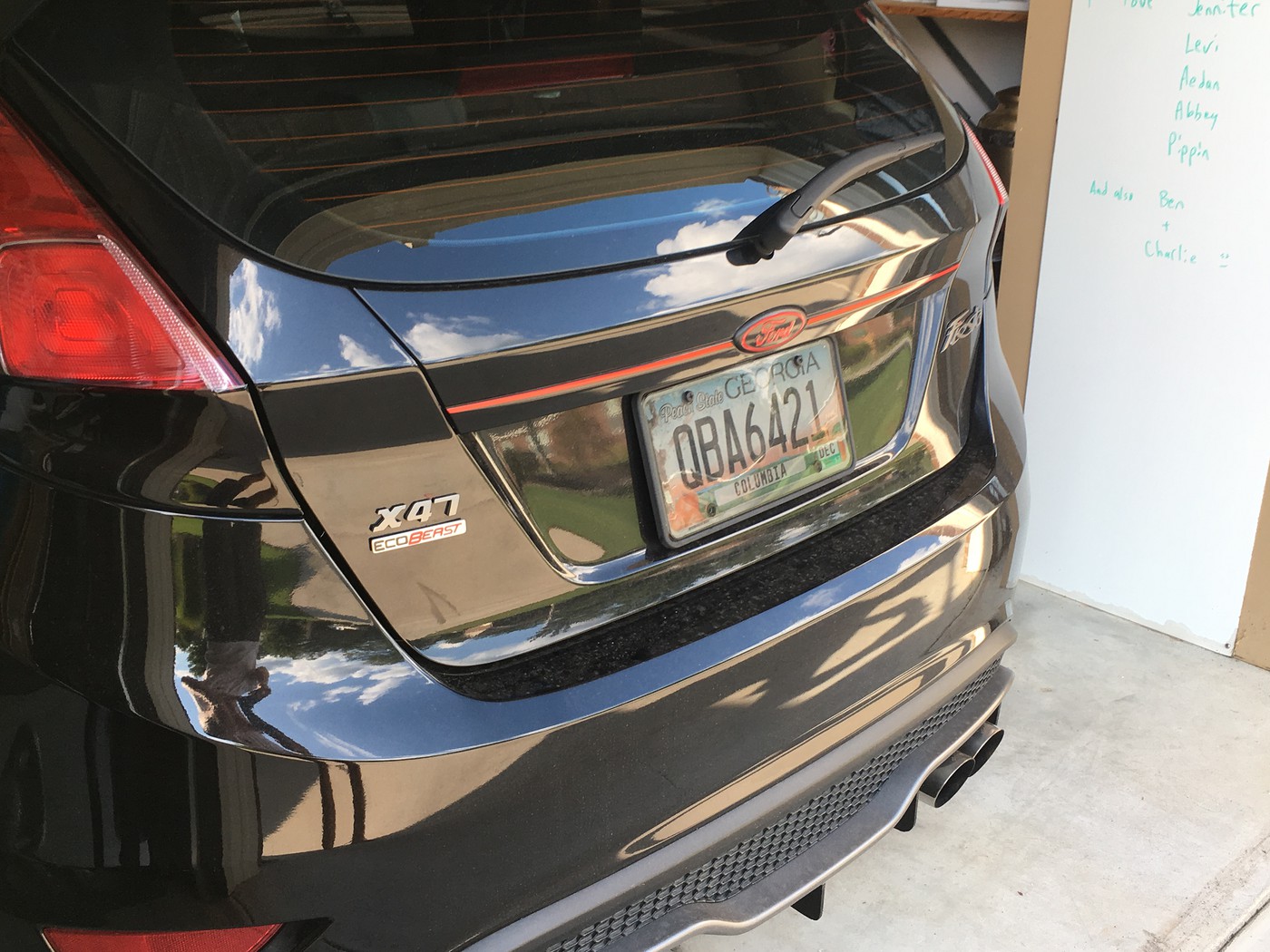 Hosted on Fotki





Last edited: