Messages

140
Likes

39
Location
I may have made this harder than it needed to be, but it did not appear to be straightforward to me. After installing Vdyno, you will notice the Fiesta is missing from the list of Fords. Mine shows because I have already added it.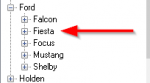 You will need to add your Fiesta as an option. Fill in the following information by selecting Car Editor from the File pull down menu. I found this info on this forum, if you see something that needs modified, please let me know. Once you are done, click on Save as Custom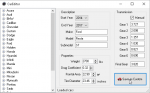 The default save location is a CustomCars folder under the Virtual Dyno program folder. You will need to navigate up 1 level to Virtual Dyno, then select the Ford folder, then make a new fold named Fiesta. I have already completed this step in this picture.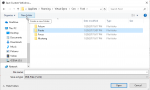 You can now save your Fiesta custom configuration here. Now when you click on the Ford Drop down, you should see Fiesta. If it doesn't show right away, you may need to close the program and reopen.
Now you can click Profiles drop down, Add profile, and select your Fiesta car. Modify any of the necessary information and save. You are now ready to open your Log files from your AccessPort