I just got this on my news feed:
https://www.carscoops.com/2019/04/new-ford-fiesta-st-performance-is-a-uk-only-limited-edition/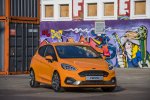 Yet again, the UK gets the good stuff.
I honestly don't care for the color, but the 18" flow formed wheels and Ford Performance Nurburgring adjustable suspension are nice.
Too bad they didn't bump up the power to at least the hybrid turbo levels.