Messages

678
Likes

200
Location
Pumaspeed Racing ST180 Billet Uprated Pulley - Pumaspeed Billet CNC

Precision CNC machined
12.5% reduction in drag
Sharper throttle response
Less rotating mass
Various anodized colour choices

The new Pumaspeed Racing pulley is the first in a new line of race spec products designed to increase performance for Your Fiesta ST 1.6 Ecoboost.Perfect for road going race cars or daily drivers, driven fast.

This CNC machined pulley is made from Aircraft Grade Billet 6061 Aluminium and reduces excessive engine load from ancillaries. It gives a sharper throttle response and has less rotating inertia than stock (485 grams vs 256 grams). The pulley is bigger than stock, which means the ancillaries are driven slightly slower to reduce parasitic losses,allowing for more horsepower getting to the wheels and not being wasted through the water pump.

These are anodized for wear resistance and look incredible.

Replacement slightly longer pulley belt recommended and available in options.

47% Lighter than OEM!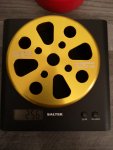 http://pwnallperformance.com/Fiesta...a-ST180-Lightweight-Uprated-Pulley_p_130.html