Messages

678
Likes

200
Location
Fiesta ST 180 Fuel Kit - over 420 bhp capable - Pumaspeed

Direct bolt on Parts
Pumaspeed Racing Exhaust Camshaft + Shim kit
New OE Ford Fuel Pump Supply Tappet

This ST180 High Flow Fuel Kit allows the 1.6 EcoBoost Engine to flow a larger volume of fuel into the fuel rail without additional load on the fuel pump.

The fuel system on the Fiesta ST180 has always been the limiting factor when trying to push the limits of any High Flowing Turbo charger.
Whether it be an X-47R / GTX / EFR or even the NEW X-57R this new simple bolt on fuel kit will supply around 20% more flow volume.
For over 350bhp we would suggest the use of the Pumaspeed uprated injector set which have proven over 420bhp on the X57R-400 Turbo.

Extensive testing has been done on vehicles since July 2018 with both the stock injectors and with the new Pumaspeed uprated injectors, all data-logs have shown perfectly balanced and flat fuel demand logging and supply with the specially calibrated MAXD OUT remapping.

This kit is a direct bolt on, it uses all OE type components for trouble free operation.
- Pumaspeed Racing Exhaust Camshaft + Shim kit.
- New OE Ford Fuel Pump Supply Tappet.
- Optional New OE Bosch Fuel Pump (highly recommended for ultimate performance)

The maximum fuel pressure the Ford stock ecoboost pump can create is around 180 Bar but at constant load over 165 bar on the camshaft tappet is too high, this leads to premature wear and eventual lack of fuel pressure and therefore power. MAXD OUT mapping will not run any mapping at more than 165-170 bar peak.

This is the ultimate fueling solution with Ford OE Safety in mind, no additional fuel lines running over the engine bay like the man auxiliary fuel systems and no additional injectors allow you to have a stock looking, clean engine bay.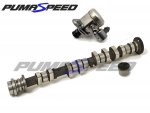 http://pwnallperformance.com/Fiesta-ST-Pumaspeed-Racing-High-Volume-Fuel-Supply-Kit_p_129.html