Messages

6
Likes

0
Location
Long time hot hatch fan... GTI's mostly... new to a FiST...very excited to be in a light, tossable car!!!
Found a great, very low mile 2016 base car in Kona Blue, slick top. Won't track or AX this car... just want a fleet footed canyon carver that can be DD'ed as well!
Look forward to some fun drives and getting on the mod train. I like to do them incrementally so as I thoroughly understand what each one accomplishes in terms of improving the quality of the drive.
By my research, it seems the path will be as follows, over time:
1. Rear motor mount
2. Cobb accessport (reading a lot about Cobb vs Mountune... leaning Cobb)
3. FMIC
4. Short shifter, shift bushings
5. 215/40/17 tires (I understand the factory Bridgestones are very good already), maybe with lighter wheels
Try to make smart decisions with high bang for buck mods.
Thoughts and opinions welcome, especially regarding who would be good vendors to buy from. Mod Bargains is well known to me but as a Calif resident I am hit with sales tax buying from them... any others?
Cheers.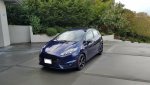 Last edited: