Messages

103
Likes

54
Location
So, in a moment of insanity, I attempted to win back some of the traction I had lost when I moved from my previous car (2014 WRX hatchback) to the wonderful world of Fiesta. I did this by installing a Quaife differential. Sadly, this pushed me out of Street class for autocross. Since there is no way I would be competitive with just the Quaife and my RE71Rs from last year, I threw a bunch of parts and money at the car in an attempt to not embarrass myself when the autocross season up here in Alaska starts back up.
Here is what I have installed so far on my Magnetic 2017 FIST (nav, sunroof, black wheels, red calipers):
Handling Stuff:
Bilstein B6 shocks and struts
Swift lowering springs
Team Dynamics Pro Race 1.2 15x8" wheels in anthracite
BF Goodrich Rival S 1.5 in 225/45R15
Pierce 2 point brace
Pierce torsion beam
Engine Stuff:
Torque Solution RMM
Whoosh Motorsports V2 intercooler
Stratified tune for pump gas
I spent the weekend with friends putting the parts on and have put a couple miles on it after getting an alignment done.
Sorry for the crap photo and dirty car, spring is nasty up here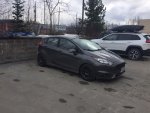 It's barely warm enough to run 200 treadwear tires during the heat of the day, but they are so much nicer on the dry than the Nokians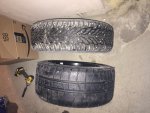 The Whoosh V2 is enormous: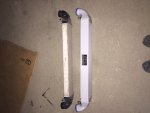 I am kicking myself for not putting on the camber bolts- I thought the drop would have increased it to more than this: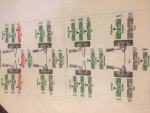 Still to be installed are the rear mounted PC680 AGM battery and the Whoosh short shifter. I'm really happy with how the car feels now, and am looking forward to getting the datalogs to Stratified so I can get my tune revised for our crappy gas. We don't have a big enough club to actually compete for class titles up here, we all compete in driver's classes (novice, open, expert, ladies) using PAX. I don't think I'll be very competitive this year, but I do hope to surprise some sports cars and have a lot of fun.