1000 Post Club
Premium Account
Messages

1,387
Likes

968
Location
Hey All,
I have developed a module that will automatically turn off the traction control on our vehicles after the
ignition button
is pressed and the radio boots up.
I have developed two offerings that I am selling to the community that are simple to install with completely reversible installations. Both offerings are plug and play into the ESC-off button below the
HVAC controls
with the requirement of running one wire with included add-a-fuse (with 1A fuse) to the fuse panel behind the glove box. You will need to install this into any 12V circuit that is switched with the ignition (such as the windshield wiper fuse).
Module Options
Traction Control Off: Traction control is disabled after the car is started and the radio boots up.
Sport Mode On: Sport mode is enabled after the car is started and the radio boots up.
Cost:
$55 Shipped (Continental United States)
Please PM me for PayPal payment details. I will also need to know if you have Sync 2 or Sync 3 (if you aren't sure, just tell me what year Fiesta ST you own).
Both modules leave the ESC-off button completely functional as the manufacturer intended. And both modules will work even if you have
heated seats
. The normal notifications will appear on the dashboard and radio screen as if you are pressing the ESC-off button. The module can be disabled simply by pulling the fuse in the fuse tap. The ESC button will still remain functional if this fuse is pulled (this gives you the option to disable the module in the winter).
I will need to know upfront if you have Sync 2 as the program must be changed accordingly. No testing has been done on Non-USDM Fiesta ST's. If you are from outside the United States or Canada and are interested in this modification, please get in contact with me and we can arrange doing some R&D together.
If you would like to order, please PM me to request my PayPal email address. These are in stock and ready to ship.
Video of module installation courtesy of [MENTION=9199]redmoe[/MENTION] and his Youtube Channel Indecisive Garage: View: https://www.youtube.com/watch?v=ZKWcrsMD24I&feature=youtu.be
Video of Sport Mode Module in action courtesy of [MENTION=6284]brbauer2[/MENTION]: View: https://www.youtube.com/watch?v=I6xGnua4b7A&feature=youtu.be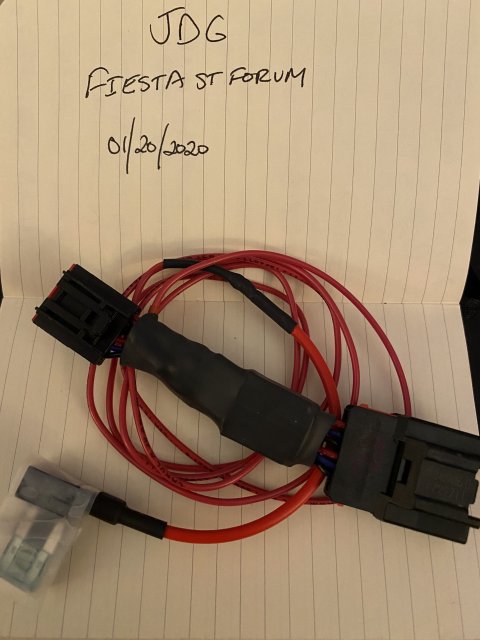 Installation
Installation of the module is very straight forward. You will have to pry off the plastic trim covering the shifter and
HVAC controls
which also houses the ESC-off and interior
lighting control
buttons (and
heated seat buttons
if present in your car). You will plug the module between the
factory wiring harness
and the ESC-off button. You will then have to remove the passenger side plastic cover attached to the center console to allow you to the run the
single red wire
over to the glove box. The glove box will also have to be removed to provide access to the
interior fuse panel
.
The removal of these three plastic interior trim pieces are well documented on YouTube:
ESC-off Button Removal
Start @ 1:00
View: https://www.youtube.com/watch?v=17GToRK-MiY
Glovebox Removal
Start at 0:50
View: https://www.youtube.com/watch?v=6hX0k98o7lM
Shifter/HVAC Trim and Passenger Panel Removal
Start @ 1:55
Then jump to 4:55
View: https://www.youtube.com/watch?v=nCe_GJLI0rE
Please feel free to ask any questions you may have. Thanks for looking!
**Install and use at your own risk**
Last edited: