Messages

3,348
Likes

1,043
Location
Quick recommendation: If you are here because you just want a good upgrade to brightness with a known safe level of low glare for the factory reflector housing low beams, just buy the
TechMax Gen 2 for $40 on Amazon
and save your time trying to research on your own unless you want to nerd out and try new stuff. These bulbs may take a little angling to get in there (removing at least the passenger side is almost always easier) but once in are short enough and run cool enough to use the factory rear dust caps...Have a great day and good luck, post back here if you like or hate them etc!
Now, If you care to know why, they have ultra minimal glare in their design, but do have a *touch* more than factory halogen simply from the brightness slightly overwhelming the housings bulb brightness design, BUT, they have such little natural glare compared to other bulb designs, that the bit of glare is actually inline with the previous TechMax Gen 1/Mini that are slightly more dim and slightly less well designed but are still excellent. A LOT of FiST owners are now running TechMax Mini's because of these posts, and hardly anyone is reporting being flashed with them. Yes, not everyone flashes when annoyed by oncoming glare, but if very bad at all we would be hearing about some flashing, but we're not.. We know flashing can happen occasionally even with stock halogens in dark areas when someone oncoming that is tired or drunk has sensitive eyes, so I think that's a pretty good thing overall to hear constantly hear and on FiST FaceBook groups that their TechMax Mini is awesome and still recommend them to others. Please read on to learn more!
Disclaimer: I am not a lighting scientist but I do stay at the Holiday Inn Express a lot.
But really, I'm just a regular nerd who absolutely despised the factory halogen headlights immediately after being spoiled by having 3 cars in a row before with factory HID so I decided to research and learn as much as I can and pass it along. I know some people will always feel that *ANY* LED is unsafe in a reflector housing, and while pretty much true 5 years ago, I strongly disagree now as nearly ALL new sets have the critical light point source length/position placement the same as halogen bulbs. This is THE biggest factor in proper and safe performance when using LED's in reflector housings. I'm open to any opinion when properly backed by evidence for a productive discussion, just please don't make blind fact-less posts just to bash without anything to add please. I take a conservative approach in what is recommended for proper safety, proper beam reach without excessive glare as priority over overall brightness.
TL;DR - Excessive glare (which I define as any stray lighting above the cutoff line) blinding oncoming drivers is why some people still feel all LED's in reflectors are bad, period. The *real* problem is there is very little real testing of
headlight bulb
s period, and people would just buy whatever randomly looks good on Amazon during LED design infancy around 5+ years ago that did not consider the proper design aspects, at ALL back then. Most models released until about 2018 unfortunately are indeed BAD and shit tons were sold to un-knowledgeable people wanting bright output or better appearance that are clueless to how glare works. All modern LED designs absolutely have addressed this issue, but there is still a lot of junk out there, so this thread is to cut through the BS and discovered and recommend together the best for a stock FiST reflector headlight. Always consider using
BulbFacts.com
as a guide if you want to see more recommendations based on actual testing, just keep in mind I personally recommend the top 4 budget ones in the LED in reflector charts there, top 2 specifically for best fit as well.
For those who will only consider as close to 100% glare-safe product with also having 100% stock fit, the
JDM ASTAR 1:1 design ($70 Amazon)
are an excellent choice. See more details below right above the first pic a couple of paragraphs down. They are the same bulb size as a halogen and also having the lighting point at the identical length to halogen filament placement so they are perfect for those who want a clean stock look. They are claimed to be 6000k but appear to be a more pure white 5750k or less, which is a good thing if you want OEM white vs. blue tinted as well. Also, these are about half the price of premium brands with similar stock fit design that are not even as bright as these, which is about double the halogen output. Downside: 2x/double sounds good, nut is definitely not as big of an improvement many may expect, my main 95% glare safe recommendations are 4-5x brighter.
For those who want to see more options but skip the reading
, below the example pics I offer more suggestions in 4 categories: Reflector low beam, Projector low beam, high beams and fog light bulbs/other options. If curious as to why 2 different categories for reflector and projector, almost every set that is worth recommending is simply way better in one housing or the other, not good in both. Sure, some mediocre ones may be mediocre equally in both housings, but the best ones out there, and each one I recommend below, are *excellent* in one housing and mediocre in the other, so keep this in mind.
Note: This thread was originally made for the sole purpose of helping those with the North American reflector housings find good, safe LED's for their low beams but has evolved to include other recommendations as well. I also don't even run stock reflectors myself any more, but I want people to use SAFE LED's and I am fascinated with the technology, so I keep up to date and have my step-son's '13 Escape with reflectors to try H11 bulbs in.
First NEVER just go on Amazon and rely on the customer reviews and/or marketing claims by the manufacturer as your only source of research and to buy whatever just looks good.has good reviews. Brightness ratings (lumen/lux) and watt ratings are widely exaggerated to score buy clicks from people who don't know any better when in fact these claims are meaningless other than to compare models from the same brand, kind of like tire tread ratings, right? Too many people on Amazon just put up a good review for being "bright" after never trying LED's before and have done ZERO research on proper cutoff and excessive glare, THIS is why so many people hate on LED's and I don't blame them... Recommended ones meet all the factors we need to meet to use safely and effectively: As I will mention repeatedly, it's ALL about proper light point placement first, an LED designed to have their chips emit as close to EXACTLY as possible to the spot as the intended halogen bulbs filaments emit from is key. A great, and one of the ONLY independent testers of LED's in reflectors (as well as halogen and HID) is
BulbFacts.com
. I've had the pleasure of getting to know and become buddies with the site owner, Blaise, he's really cool family guy who does this as a hobby and makes just enough off the affiliate click to buy links to help him have money to keep testing for now, so please use the links right in his
LED chart
to help support independent testing of cheap to very expensive LED sets!
Biggest factors in using LED's as headlights overall and in our reflector housings safely, in order of importance:
Light source placement and design:
OK, if you skipped down to here and didn't see this above, THE most important factor is how well the LED placement mimics a halogen filament light source point to ensure it projects properly to avoid massive glare and have proper outward projection. Reflector housings are designed to reflect the light coming from a precision filament point from a halogen bulb as to have only very slight glare for forward signage lighting. THIS is one of the biggest reasons why most new LED designs are actually safe to run in reflectors compared to in the past, the manufacturers finally get this now, but the damage was done for many so now "Cars with bright LED's" has become the #1 generic description used by the masses for excessive glare that blinds them when it actually happens for a number of reasons, and even worse trying to run HID's (which have a longer out light point and have bad glare), in any housing/projector not designed specifically for HID. There are a couple of halogen length HID kits out there, but then those work so well that the light is too much for any FiST housing or stock projector to handle. Many lighting enthusiasts swear HID's in HID projectors is the ONLY way to go and they are right that it's the best overall, period... but they can be very costly and/or labor intensive to retrofit reflectors or upgrade stock projectors from Euro's. So, we simply are sticking with recommending THE safest LED's we can find and newer designs have shown this to be actually pretty easy to find.
What to look for when researching: Look for "1:1 light source" in Amazon listing pics or similar wording but a pic that shows they light point as the same distance a halogen is KEY. Many ones that do this well actually don't mention it but they should, but at least we have
BulbFacts.com
to find actually testing on this to show the output itself. But if you are looking at random bulbs and this is mentioned, it definitely is safe to try, glare and throw distance should be good.
As you can see in this example pic of my "100% safe recommendation" JDM ASTAR from Amazon,
same lighting point length is the most important part
... To further note, in this case, this is the "safe" recommended bulb from the top "TL;DR" section. The entire bulb is basically halogen size, so it has limited cooling, but fit perfect of course, and will not glare nor be too bright guaranteed. They are extremely safe to run and is good option for those who are not sold on LED's and are really worried about glare. Yes, they are brighter and whiter than stock but likely test as "only" double the brightness over stock halogen vs. other recommended bulbs that have 4-5x in overall brightness, like some premium priced models in this very similar style has tested at . As these were just some random ones I found as an example, I am not linking or specifically recommending them here but are easily found with a "H11 1:1 LED" search on Amazon. Again, for those who want to go the safest route, even if it means only a slight but noticeable upgrade in overall brightness and whiter output, these are a good way to go. At $70 they aren't cheap but also still half the price of similar 1:1 designs that are likely not any better at all.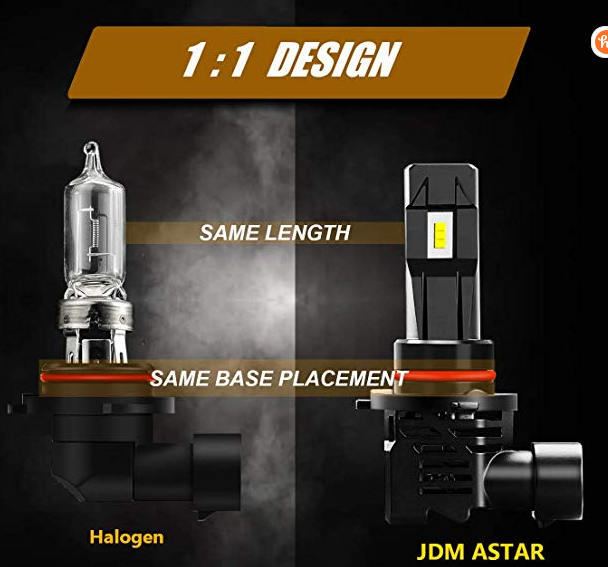 BulbFacts.com
has some GREAT info/chart on brightness and cutoff/projection quality of
LED headlights
. They have done an amazing job actually reviewing LED's vs. those sponsored Top Reviews BS. Show them a little love and use the links to buy from their site if you choose to buy one of the highly rated sets there, which I strongly feel is the safest bet. The technology has come a
LONG ways
over the past 5 years but also still too many cheap crappy units on Amazon/eBay to count.
So, keeping these guidelines below in mind, please feel free to post models that you've found with a good wall/garage door and "down the road" projection pics... We like to see new finds those showing good cutoff with very little glare above cutoff.
The first 2 are 100% REQUIRED to be met before considering:
Fit:
Unfortunately, for headlights, the FiST has limited clearance that disqualifies many LED's from even fitting the housing.
Look for: Length to be 34mm or less... if not, then must be 33mm at MOST for the Width, 30-32mm wide are out there and is preferable. . LED Bulbs these days will come with either short and wide or long and skinny heatsink styles, and some of both types fit and work well, but long ones will need a 75mm domed rear dust cover for $6-10 on Amazon if you insist on running a rear dust cover. I'm now leaning towards recommending primarily the short but wide variety as you can use the stock rear dust cap now that there are models I feel perform well AND run cool enough by my standards to feel comfortable to run this way now.
Brightness:
If you intend to use in our standard reflector housings then you can easily go TOO bright when trying to find bright headlights. Using
BulbFacts.com
, I tried the DeAutoLED's (Top Premium set) and at 7000 lux were easily TOO bright, they had a badly distorted beam pattern overwhelming the stock housing design and had to return them, see the pic of the "
kaleidoscope
effect" it creates below. It appears the ideal is ~4000-5000 lux as how BulbFacts tests, for our reflector housing FiST low beams. Overall design of the stalk matters too, some allow better brightness without glare, some not as elegant.
Look for: Again, IGNORE manufacturer claims on watts and lumens, only use those to compare general brightness levels on different models from the same exact brand to tell which is a more low, mid, high end model. The easiest way is to know for sure is to look for 3800-5000 tested low beam lux for low beam on
BulbFacts.com
charts, but they have far from everything on there.
So, I'll mention Amazon reviews here again specifically as this is a good time to clarify when Amazon reviews can actually be helpful. As I mention above, IF you can confirm these first 2 requirements that a bulb has proper lighting point design and meets the size requirements, THEN you can consider a random bulb that looks appealing. When looking at customer or company provided pics of their output, keep in mind headlight output looks brighter in pictures than "IRL". Especially on cell phones, even good ones, because either the setting doesn't exist or is not selected properly by the average person taking cell phone pics. That said, feel free to compare prices wherever, but Amazon is a good place for new finds in general. We see ones that are the best/recommended sometimes get only around 4.0 stars while some of the worst tested will have 4.5 stars sometimes, just depends on the expectations and knowledge of the purchasers they drew in for each model. Of course people will put 5 stars as a fan-boi of a certain brand and don't know any better, and those who put 1 star for bad/slow shipping or hard to install are all types of reviews out there, hehe..
Color temperature.
Nothing "critical" here, just good info to know for those who aren't familiar to help you choose based on your color goals... Regular halogen bulbs naturally average around only 3500K (K as in Kelvin for the color spectrum scale) that appears to us as a mix of yellow, brown and white that looks like some one had projectile sprayed light color diarrhea, while many factory HID/Xenon are 4300k-5000k, which is the best for all around visibility and most efficient brightness per watt... LED's come in the full range of color from 2700k yellow to 12000k purple and beyond, however 95%+ of LED's marketed in North America for headlights are in the 5250-6500k range and their claims are quite often wrong in both good and bad ways. I have personally seen LED's labelled 4300k actually be 6000k and I've seen ones called 6500k actually test at 5750k (which is good if you don't want too much blue). Despite 4300k-5000k being ideal for overall visibility, it's a marketing thing because people *think* they want blue'ish bulbs because some people *think* higher color temp means brighter when it actually starts dropping off, per watt, past 5000k. 4300k be found out there, but not in any meaningful brand or availability sadly, I'm always keeping an eye for options and will update to include more info as I can.
Bottom-line to look for: 5000k-6500k as actually tested and the actual test results on
BulbFacts.com
LED charts does for you. Closer to 5000k will look more pure white and closer to 6500k will have more blue, I say stick to 6000k or less for less chance of legal issue and good actual visibility vs. appearance.
Old Example Pics
oEdRo:
First up is my OLD oEdRo set, NOT recommended at all, even though they still are considered middle of the pack today. ..These oEdRo are an early tiny round tip with 4 side design for closer to 360 degree output and seem to do an OK job. However the cutoff moved upward over stock halogen and had to be aimed down a bit. You can also see the spottiness/distortion inherent to our reflector housings, and how the right side is a little off from me bending the anti-glare cap trying to install alternative halogens when my car was new and I hadn't figured out how that all worked. Not recommended as there are is far better for less, this is a good example of an early multi-side mini tip to better simulate a halogen filament, and it was decent for 2017 when they were released.
TechMax Mini (Gen 1)
- Still one of the best available overall, this former champ has been just edged out by newer options. You can see these TechMax Mini are cleaner and brighter than oEdRo for only ~$36, unfortunately the pic is a little too close to the glossy finish garage door to get a good impression of real world glare... These are what I settled on in late 2018 for my reflectors after trying about a half dozen sets before I then upgraded to Euro projectors in Spring '19. These run very cool and have no external driver to worry about flopping about or having excess extra cord length that's difficult to tuck into the housing. You might have to lightly trim your rear opening a touch bigger with some snips to fit these more easily, and sadly they are juuuust a touch too big to run factory rear dust cover on the passenger side, so they need the $6-10 domed 75mm rear dust covers to be safe for clearance.
Morimoto 2Stroke 2.0 - $120
Best you can get that support low voltage for DRL, so those in Canada and elsewhere that have a
low beam
ran at lower voltage for DRL's like the stock reflectors do, then these are the premium bulbs for you... BUT, I can't fully recommend overall for the cost. Sorry for the very unscientific non-controlled pics here, looks like I was a little close to the wall again but you can see how clean the cutoff is and how white they are compared to others. Also, fog lights are on too, so that's where the
yellow glow
is coming from. The problem here is they DO create what I call the "
kaleidoscope
effect" with our stock housings, this is an effect that creates angled distortions in the on road view. SOME of this is unavoidable to to the inherent reflector design but certain bulbs exacerbate this, definitely not as bad on these as the WAY too bright for our housing $140 DeAuto LED's as shown below. These *are* one of the most purely white light LED's you can get for a clean OEM look, but still, for 3+ times the price of the recommended ones, they just aren't worth it to me.
DeAutoLED - $135 with promo code
- The epitome of the "
kaleidoscope
effect" from being too bright, no, this is not while even moving, this is what you get stationary with a fairly well designed bulb but is simply too bright for the housings we have. Even though they are very highly rated by BulbFacts as they work great in most other cars, this is the perfect example why you just can't buy the brightest and highest rated ones and call it good with a FiST.
RECOMMENDATION LIST
***North American Reflector Low Beams***
The one upgrade everyone should make...
Budget - Up to $50 - All you need to spend to just upgrade your headlight bulb once and be done.
TechMax Gen 2 for $40 on Amazon -
Now proven in testing to be IDENTICAL to the
Nineo Gen 2 ($50 - Amazon)
BUT are ran at exactly 1w less, for 11 degree lower operating temp but SAME EXACT output at the hotter and more expensive Nineo version. Please help support independent
headlight bulb
testing and use the "Buy from Amazon" links to buy from by loading the actual test result page
HERE
Legacy budget champs:
Cougar X-small $36 Amazon -
Former budget champ with a tighter focus output with less side light and overall glare than the TechMax Mini (Gen 1) while even a touch brighter at the beam points. Check out the difference in output on page 35 between this and the TechMax Mini. Also, Like the TechMax they also have no external driver to worry about mounting or tucking away, these would make a good choice for the factory fog lights as well if you want default ~6000k LED
headlight
color temp for your fogs. Downside is that you will also need $6-10 rear dome covers I explain below...
Katana ~$49 on Amazon
- Previous #1 choice for
light spread
. Slightly dimmer than the TechMax in reflectors but this helps in contributing as having now the 2nd best
light spread
of any Amazon set under $100, so at $49 a great buy if you are distracted by reflector imperfections with bright LED's in our reflector housings. They also run cool and are nice and short if you want to keep your stock rear housing covers on. Tested at an actual 5950k, they are fairly white with only a slight blue tint. These are brighter and work AMAZING overall in Euro projectors, better than almost ANY, but you need H7 size in those anyway, so you can't buy these now for reflectors and re-use if you ever eventually upgrade to Euro
headlights
.
TechMax Mini (Gen 1) ~$36 Amazon
- Proven fit and excellent output and cutoff, these were the budget champ, beating out the Katana and MaxGTRS (AliExpress version of this same design that was the original champ), while not a perfect 100% glare-free design they have a "just right" brightness of 4100 lux that keeps glare well within safety limits. Among the very coolest running with no external module to deal with and $15 less than the Nineo, these were THE proven set to get, regardless of price until the Cougar X-Small was tested.
Honorable Mention - Hikari Ultra - ~$81 w/code on bulbfacts.com - Amazon
- PERFECT cutoff, slightly brighter than the TechMax, these were the #1 bulb period, regardless of cost, for quite a while. Biggest knock on them today is price, would be nice if they lowered the price over time now with much more competition. Also, while one of the very few with a PERFECT cutoff, may also show some reflector imperfection down road from overall brightness. Also, tested at a full 6450k in color, these are the ones to get if you want the perfect cutoff and prefer a clearly blue touch without being too obvious, but also are more blue than any of the others above.
Kilakila
- Best budget option for legal Canadian DRL's that work by simply running the low beams at only 60% power during the day, the best overall for these types is the
Morimoto 2Stroke 2.0
below... At a full $50 price with only average decent random budget set brightness, the Kilakila at least have decent genuine Cree chips, but a couple of steps down from their best. They are very short and will fit with thee
factory rear dust cover
, no problem and temps are lower than average to support that use. While just a bit above average brightness overall, but near perfect beam pattern at least. Due to overall value, only recommend for those in Canada that want to stay legal by having their DRL's on, almost all others won't fire up at all and you'll want to run full headlights all the time to stay close to legal in Canada.
Premium Sets worth consideration
Philips X-tremeUltinon gen2 - ~$135 w/promo
- Claimed to be for fog lights, BulbFacts tested these as having a PERFECT cutoff when used as
low beam
. This is the set that my buddy who is anti-LED for
headlights
actually is considering for his fogs. Brightness is right in between the TechMax and Morimoto, these look to be an EXCELLENT choice for quality, cutoff and not too bright, possibly THE Premium choice for our cars. NOT easy to find in the US nor very cheap when you do, that UK site I linked has free shipping and specials quite often, so for $131.50 shipped with 20% off code is actually a good deal on these.
Morimoto 2Stroke 2.0 - Best for using low beam DRL's/Canadian DRL legal
$120 everywhere, rarely discounted. Best available at any cost that we know of that supports low voltage DRL mode. There is a good write up on
The Retrofit Source
on why this model is the very first H11 LED they decided to carry. Not as bright as the DeAutoLED below, but definitely a good thing as the those are TOO bright. Claimed to be 5700k they actually tested at 5250k on BulbFacts, which is THE whitest and least blue LED that has good enough output to recommend if pure white, clean cutoff and brightness are all important to you. Unfortunately, other than being super white and working on low voltage DRL's, they seem to have no other advantages over sets 1/3 the price, and from testing them personally I can honestly say they aren't much less blue than the others. Sadly, These DO produce a noticeable bit of "
kaleidoscope
effect" from being too bright, just FAR from as bad the DeAuto LED, I sold these as I liked the budget ones better overall for far less.
Premium sets clearly not worth it:
Putco Nitro Lux
- Luxury high-end $256 regular price. Passive braided cooling, can cut small hole in factory
dust covers
to stick braids out and spread. Not on Amazon, you can find them on
HeadlightRevoultion.com
and
brisource.com
. Blaise/BulbFacts has tested them and they have a Perfect cutoff but not the brightest, which can be a good thing but still not worth $250.
***
Euro projectors***
Also, see my other stickied thread on the
Ultimate guide for those considering Euro headlights
for more info on how you can convert to them. I personally find them a more important upgrade to do before any other major exterior mod, I just can't drive a modern and sporty little driving car without this basic modern feature, in my view. Ford was STUPID not to offer a lighting package on this, they knew how desired the Recaro package is and has it priced at a very nice margin for them, if they offered a lighting package for $1000 I certainly would have jumped on that at least, even if I couldn't afford the Recaro's buying new, but I digress... For those who already have projectors from either Euro swap or retro fit, these are the H7 low beams I recommend.
Audew 6 side mini tip - ~$45-50 Amazon
- New exciting design that I love more than my Katana! I was sent a set in H7 for my projector and H11 for reflectors to review and I can honestly say they are amazing! I was able to trigger a red tag limited time deal on Amazon for $40, and these are just awesome for the price! Very heavy and solid built heatsinks and EXCELLENT overall build quality, I would pay $80 for these, but wait, there's more! There are also some EIGHT side design in the same ~$50 price range, someone on here JUST ordered some so we'll have more feedback soon. These NEW 6/8 side designs are a great modern update to the older mini-tip designs like the oEdRo. Most of these are traditional 2 sided, and they are still great, but these hold major promise as a possible major common design going forward for LED's known to be SAFE.
Cougar Motor X-Small
put out even a tiny bit more light as a projector
low beam
and are a good $12 less than the Katana. They, unlike the Katana, also have an internal driver so there is no external module to tuck away either, which is very nice. This model is also the one model that happens to be close to a recommendation in both reflector and projector styles.
Katana ~ $47 Amazon
: Hands down of the cleanest output for projectors and an excellent overall value. This is what I ran in my Euro projectors and I was VERY happy with them before I got the 6 sided Audew. The
Hikari Ultra
cost nearly twice as much but are a little brighter and more blue if you're interested in that and if money is no object, the
Lumibright XT1
are the brightest overall while the same color as the Katana.
***High beams for all styles***
:The reflector and Euro projector both use identical H1 reflectors for high beams. The
Aukee H1 ~$27.50 Amazon
are not only cheap, they simply have the best output, compared to any other H1 we have found so far. Others that are super cheap with older big patch type COB designs will act as "super fogs" with tons of light down low, yes, even in the high beam socket, but also have short throw distance, while these truly have great forward output. You will also need
THESE
bulb holders. You remove the ring from the H1 bulbs and use the bulb holders to clip into position in the housing. Then insert the bulb into the mounted ring and twist in to position. You can try halving the stalk in a vertical or horizontal position, but usually the stalk vertically with chips on the sides works best for low and high beam 2 sided LED's.
Last edited: