Messages

1,118
Likes

1,035
Location
This is a cartoon by George Booth, who is one of my favorites. He was a Marine in World War II, and then re-enlisted afterwards so he could be the cartoonist for the Marine magazine, Leatherneck. He has been a cartoonist for the New Yorker since about 1969, and has created his own wonderful world. He has a whole series of great cartoons involving people taking their cars to really sketchy repair shops. George is now 95, and still going strong.
I really don't like it when someone else has my car. George did a good job of expressing, and maybe exaggerating a bit, the concern that I feel in that situation. The cartoon came out a little blurry, but I think you can still read it.
This is why I don't do valet parking.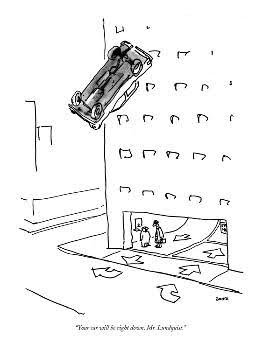 Last edited: