Messages

3,276
Likes

1,002
Location
INTRO
So, if you are reading this then you. like many of us, have HAD IT with the garbage reflector headlights that come on our cars in North America. To me it boggles the mind that Ford offers a $2000 Recaro seat package but not even an optional package for better headlights that the entire rest of the world gets standard on the FiST, but I digress, that's Ford marketing deciding what they think North Americans care about and gave us what I feel are UNSAFE headlights!
Disclaimer: These headlights ARE illegal in the U.S. and probably Canada too, because they don't have the lit amber marker light on the corners. However, we do have blinkers in our
mirrors
unlike many cars, so to me that covers a lot of the actual safety issues. Using these are at your own risk in a legal and safety
perspective
. Being able to, you know, actually see at night I find to be more important than debating any legal minutia. I am also not a lighting "expert" just well researched and I will intentionally be using simplified language and making some fairly broad claims, feel free to add or correct anything I have wrong... Also, they do not have a DOT approved cutoff, they use ECE which you see here is quite a bit different. Keep in mind that only the UK, their former territories and Japan actually uses Right Hand Drive (Left Hand Traffic), so that is another reason we call them Euro projectors, all the rest of Europe uses Left Hand Drive (Right Hand Traffic) like us, but still have the Euro cutoff. Obviously, with the sharply angled cutoff of the ECE style, it's very important to get the right unit as to not directly blind other drivers. One option is to order a UK/RHD set and replace the low beam projector with a major brand aftermarket and they will always have a regular DOT.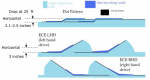 WHY
So why convert to Euro projectors? They provide an actual projector beam instead of a reflected one for the main low beams. This provides that nice and clean cutoff without light glare and scatter from putting too bright and/or poorly designed LED's in the reflector housings. With a projector, you can use HID, LED or halogen in the H7 (compared to H11) socket safely, although to a wide range of effectiveness. Yes, there are now FINALLY *some* decent and fairly cheap LED's actually designed to work in the reflector housing but still, unless very carefully selected, we run into issues with glare and/or TOO bright of bulbs overwhelming our housings, definitely not the best choice. If you want to spend less than $50 and not have bulbs that glare but will improve your visibility, just order TechMax, or Katana. But if willing to spend more for the very cleanest (and blue tinted) output available, then the
Hikari Ultra
, in H11 for your reflectors and call it good. Hardcore lighting nerds will point out that no LED can be made JUST right for reflectors and they are mostly right, but these I listed are proven to be not too bright, have only the intended tiny bit of glare for reflectors and no more, and have good light spread. You will see some shadow imperfections the reflectors will show with any bulb, but they especially come out when using brighter than halogen bulbs and can be distracting to some. So, you still don't get the greatest output with the clean perfect cutoff a projector applies. Also, and this is a big factor, with the Euro projectors you also get the LED "brow" DRL's that many cars have these days, like what was even offered on the non-ST Focus before it was killed off. We will get into it below how to make these work, either in basic form or full low/high brightness as an actual DRL.
WHY NOT
- Not legal because of missing
corner amber marker
. But, this is VERY, VERY rarely noticed by police nor a major safety issue anyway.
- As noted above, also not legal due to ECE cutoff instead of DOT approved, but like many other things, Europe is correct as in the ECE cutoff is actually safer to see pedestrians and the sides of the road more and as long as you get the LHD models you are fine.
- All need an
Add A Circuit
with extra wire ran to each
headlight
, IF you want to have fully automatic bright and dim LED brow DRL brightness switching as they would from the factory.
- Since they actually have motorized leveling
motors
that our wiring doesn't support, the aftermarket brands, especially TYC, may arrive badly out of aim and the manual adjustment has kinks/issues due to rough shipping handling and have very limited range of adjustment. Then you would need to plug in a Euro
headlight
switch as a one time procedure to have the motor kick in and level them off. This switch can't be mounted and used permanently either as its a completely different housing size/style without cutting up your dash and you'd have to order one or find one to borrow.
- COST. Even with the cons already above you are looking at $650-800 for OEM quality and $325+ shipped if willing to go with a replica. Plus, you must add in an additional $50+ for an LED or HID upgrade, at least a decent plug and play H7 set are only $38 and up, see Bulb Choices below for more.
CHOICES
I will discuss the 3 well-known suppliers of the actual Euro headlights: The Ford OEM/Hella and 2 aftermarket providers that are legitimate decent replacement quality in TYC and Depo, AKA "replicas". Replicas are often times used for
collision repair
where the owner is trying to lower the dollar amount of repair to avoid their beloved car from being totaled, as otherwise you are entitled to OEM parts by law anyway. There is no argument over quality, the Ford OEM ones at the very least are high quality and never have issues with aiming and adjustment from what has been gathered with the info that has been shared (other than one case of shipping damage), while the other 2 may have some issues with aiming and I'll get into why as well. The Ford OEM can be ordered through Whoosh or other sources, possibly UK or German
Ford parts
dealers. TYC and Depo can often be found on eBay, many other places will not ship these to the US because of legal paranoia. I found
Cars245.com
to have a good selection AND the best prices. These replicas usually ship from Latvia, no matter whether ordered off eBay or other sites. I'm not sure if it's one big company there that just found a niche market or what. I only found the Depo, and most choices overall after selecting the 182hp FiST instead of the 200hp one. Keep in mind for the North American market ALL '13-'19 Fiesta's including regular and ST accept the same
headlight
, period, just make sure not to choose the new '18+ world model generation. Hella (One of 2 Ford OEM providers) are around $300 each, TYC around $123 but I settled on the Depo units at $141 each base price/about $350 shipped for the pair and am very impressed with the quality. I will not be discussing non-OEM style housings in this thread. On eBay, AliExpress, etc, there ARE some $500-1000 ones with halos and all kinds of stuff that I won't get into, none of them are from any actually established brands like Spec D or similar.
Pro's of each brand:
- Ford OEM: Made by Hella, VERY high OEM quality/peace of mind.
- TYC: VERY cheap and very decent quality for the money. Apparently easier than OEM to split for upgrades. (Butyl vs. Permaseal)
- Depo: Only a bit more than TYC and higher quality as well, no aiming range issues like TYC. Also, like TYC, they are easier than OEM to split to upgrade.
Con's:
- Ford: COST. As an OEM product, perma-sealed so would have to be cut open for projector upgrades/quad projector retrofitting.
- TYC: Most likely of the three to arrive with the projector aim off and or mechanical operation of adjustment screws to be out of whack and have limited adjustment.
- Depo: Also has unknown factory aiming possible, mine ended up being awesome, tons of smooth range of aiming adjustment available.
WHERE TO BUY
Cars245.com
-
HERE
is the page that was kind of buried and hard to find originally.
Pricing of each. You buy one of each of the brand that is same price, you will see that one listing is for left and one is for right and the pricing below are the ones for Europe and the Americas and not the ones for UK/AUS/SA, etc... Shipping to the US is about $75 for both total on top of the price x2 below...
TYC: $131.33 - about $340 pr/shipped
Depo: $139.92 - about $355 pr/shipped
Depo Black internals (Separate page for them
HERE
) $402 set of both, so around $470 shipped, good deal, BUT are special order and take the same 6 weeks... Just like the eBay listing that is $106 more
Hella (An actual OEM provider) (For Americas/Euro RHD): $254 - under $600 shipped is a GOOD deal for OEM quality!
Hella (page 2): $542... for UK/Aus/SA, etc LHD) yes each... I'm not sure why, maybe crazy demand or crazy UK safety, I dunno.
BULB CHOICES
So you've decided you want the projectors to add either the low beam
projector and/or LED
so next is bulb selection/options. I believe OEM's come with halogen bulbs, my Depo did not and that's fine, I wanted to use a brighter bulb anyway. The blinker bulb for these is a 7507 also known as PY21W, I got generic incandescent ones for $2 a piece at Napa, $5 for a pair of Bosch on Amazon. If you use LED for blinkers you will get hyper flash and would need resistors, not worth the hassle for just blinkers to me. The high beam, like our US low beam reflectors reflectors is also an H1 reflector and cheap "mini" H1's do fit although you also do need a "Ford H1 bulb holder" from Amazon.. These projectors may have been originally designed for halogen but also work well with all the modern proper filament copied LED's. I tried HID originally and the glare was crazy. So, as some of you know, I recommend
BulbFacts.com
to see real independent bulb testing results, so feel free to check that out for your best choices. For those wanting something simple and cost effective for the main low mean, I highly recommend the Katana LED's in H7, we've had very knowledgeable lighting people confirm they work great and they are only $45. Testing shows they make almost or more light as $150+ premium products. I am using these and am VERY impressed with how well they work in projectors. If you find
BulbFacts.com
useful, simply use their links to buy to help support them. The owner refuses to take money from manufacturers and will only publish real results, so consider helping him out by buying through his affiliate links so he can keep independent testing alive.
Katana H7 on Amazon.
NEW:
The new
Cougar Motor X-Small
put out even a tiny bit more light as a projector low beam and are a good $12 less than the Katana. They, unlike the Katana, have an internal driver so there is no external module to tuck away either, which is very nice. These are what I would buy right now... but for only ~$47, the Katana feel like and perform like an $80+ set easily, the quality is truly there.
Bottom-line: Only a handful of other sets works even marginally better than Katana H7 LED's for the low beam projector and they all cost double to triple the price. They are nice and heavy duty high quality construction too, I can't recommend them enough.
New
: And now the
Cougar Motor X-Small
are even a tiny bit brighter, have no external module to try to tuck away and are only $36 on Amazon, as noted and linked just above.
MORE INFO LINKS
How to add H1 LED high beam to either Euro or stock headlights
. - both have reflector high beams and take H1's for them but you also need bulb holders to use LED's.
How to change one pin on your cars wiring harness to each headlight to get basic LED DRL brow functionality as your marker light with parking or headlights on.
NEW - Move the pin to the "Low" position (the one right *below* where he shows to "move to here"), then use an Add a Circuit (Micro2 style for '16+) with 5A fuse plugged into spot #27 in the inder hood fuse box. Then, from the end of the single Add a Circuit, run one line to each headlight with 18 gauge wire and a "150 female terminal" (Amazon/web search term to use) pin on the end. Connect into the actual "High"/"Move to here" position as shown at the link above (this is on top of the one wire moved to the Low spot. Then you'll have High DRL's when ignition is on, period, and Low automatically when the headlights or parking lights are on (manually switched or Auto). There is no need for a harness as previously thought!
BulbFacts.com
- Chart for LED's in projectors
HERE
and for HID in projectors
HERE
Best and inexpensive H1 LED's that fit in both US or Euro high beams
and the
bulb holder
for them. Directions on installing in my LED thread HERE. You just remove the mounting ring from the bulb and use the bulb holder to mount ring into place in the housing and then re-insert the bulb into the mounted ring. Then jam the 2 loose power wires into the an area that matches positive and negative (you may have to look for the little "+" sign if you have both black wires) from the new bulb into the old clip-on power/bulb holder for original halogen H1 and set the connector into the cavity area of the housing, no special rear covers needed.
Last edited: