I recently started an experiment, looking into the best ways to keep the wheels clean of the brake dust that the stock pads put off. I heard that wheel wax can be a great way to keep dust and dirt from sticking to painted wheels, so I decided to give it a bit of a try. In my experiment, I cleaned all four of the wheels thoroughly and applied wax to the wheels on the driver's side. I figure this way I can tell several things. First, does wax help the wheels stay cleaner for a longer period of time? Second, how does this wax stand up to the front brakes vs. the rear brakes. Lastly, once the wheels do need to be cleaned, is it any easier to clean the waxed wheels vs. non-waxed wheels.
Here are starting pictures for reference. I forgot to take starting pictures of the passenger side, but they were almost exactly the same.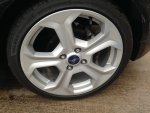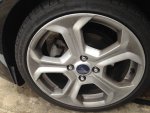 I bought some "Diamond Edge" wheel wax looks to be exactly what I needed, special wax designed to stand up to the heat and extra debris that wheels face.
First, I jacked up the drivers side and used jack stands so I could take my time cleaning without worrying about the scissor jack failing. Took off both wheels and thoroughly cleaned each, dried them, and applied the wax according to the directions on the bottle. Once they were cleaned up and waxed, I put them back on and cleaned the passenger side wheels. These ones just got my normal cleaning routine since they didn't need wax. I just reached between the spokes as best I could to get the back side and the inside of the wheel.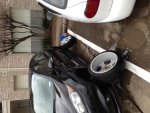 Here are my starting pictures. For reference, these are ordered Driver Front, Driver Rear, Passenger Rear, Passenger Front.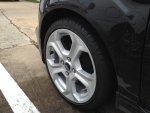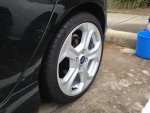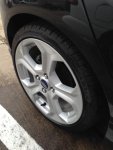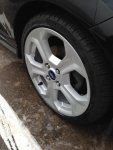 Now that all four wheels were basically the same level of clean and the driver's side are waxed, I planned to drive as I normally do for a week or two without cleaning the wheels at all. I took pictures every few days in order to document the differences. Finally, once my wheels get too dusty to stand again, the second part of my experiment will be to see how much easier the waxed wheels are to clean compared to the wheels that I just cleaned normally.
P.S. - Here's a picture of the scissor jack that comes with the car in it's original location/orientation. It was in there a very specific way so I took a picture in order to be able to get it back the same way. Figured one of you might be able to benefit from this in the same way.