Messages

48
Likes

98
Location
Whoops, I posted this to the "Interior Upgrades & Modifications" page and I realize now it probably should be here instead. If I need to remove my other post, I can, just let me know (admins or otherwise).
This is a lil writeup of how I updated my 2016 Fiesta ST to have the latest version of Ford Sync (like newer models have), even though it is not directly supported by Ford for our cars (allowing automatic updates will never surpass 2.X versions, and this is a 3.4 version). Performing this upgrade will also add the option for 3D maps (where there are 3D shapes where buildings would be, assuming you live in a more populated area where this has been programmed into the map info), and will have 2022-revision maps (so you won't have outdated roads/etc. shown).
Yes, you will need a Sync 3 radio already; this will not work on a 2014 or 2015 with Sync 2.
Prefacing this with the good ol'
DO THIS AT YOUR OWN RISK
. This is NOT supported officially from Ford, and there is absolutely no guarantee this will work. You CAN brick your radio's software if you do this wrong (though this is almost always recoverable, with the correct procedures).
Example of what this updated version of Sync looks like now on the home screen: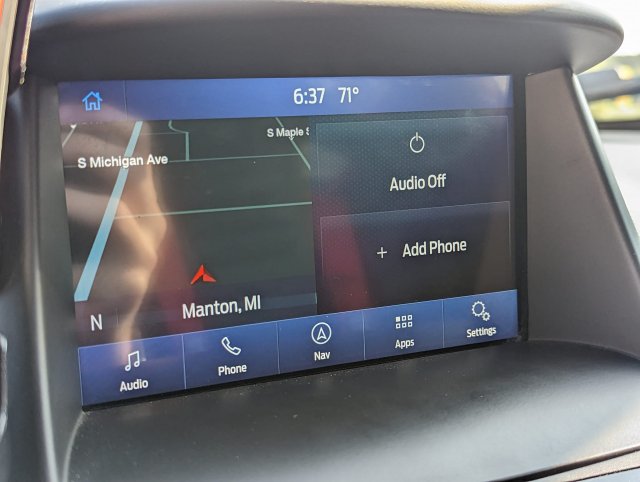 To do this, you will need:
- A computer
- A 32GB flash drive (16GB might be just enough to cut it, and will definitely be enough if you don't have navigation. A USB 3.0 drive is preferred.)
- Your brain (semi-optional)
- 1-2 hours (lots of this is waiting time, don't worry)
First, get on your PC and navigate to this page on Cyanlabs' site:
https://cyanlabs.net/tutorials/sync-3-automated-method-update-to-3-4/
Scroll down to this, and click "Get Syn3 Updater", and download it at the following page.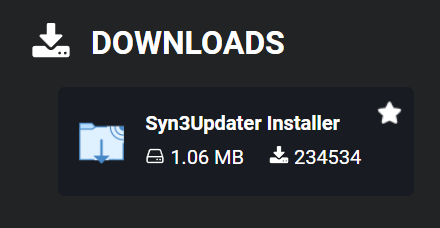 (backup link that's directly to the Syn3Updater page in case the original linked page is removed:
https://cyanlabs.net/applications/syn3updater/
Run it, and go through its install steps allowing it to become installed. Run the software, and head to the settings menu so that you can enter the information for your current Sync setup in your car.

Hop in your car, and put it on accessory so you the radio turns on. Go to its settings, and go to information about Sync so you can see the currently-installed version. My car had Software Version 2.2 and Build 16280. You combine these into one thing (as shown above; 2.2.16280). When you click the menu to type it in, it should display a list of versions, so you can select the version instead of typing it to avoid errors typing it. Triple-check it matches your car; it needs to match so that this process works correctly. Then select your region, and choose if you have Navigation or not.
Head to the Home menu at the sidebar.

Select your chosen drive. Performing this process is going to wipe your drive, so ensure if you have any information on it that you move it elsewhere first.

Select your region, and then choose your choice of Sync version, and Maps/Nav version (you'll skip that if you don't have nav). I chose the newest version of each, and did not have an issue. I used Sync 3.4.23088. Leave the selected packages all enabled, as they are by default.
Choose "Start". You will be hit with a big red prompt informing you that you MUST answer correctly if you have a 2020+ unit. Obviously, we are Mk7 Fiesta owners so none of our cars are 2020+. Select "No" (or whatever option clarifies you do NOT have a 2020+ car, if this prompt changes in future software versions of Syn3Updater). It will start downloading all the information, then apply it to the drive. This will take a while (15-45 minutes, or longer with slower internet), so go find something to do.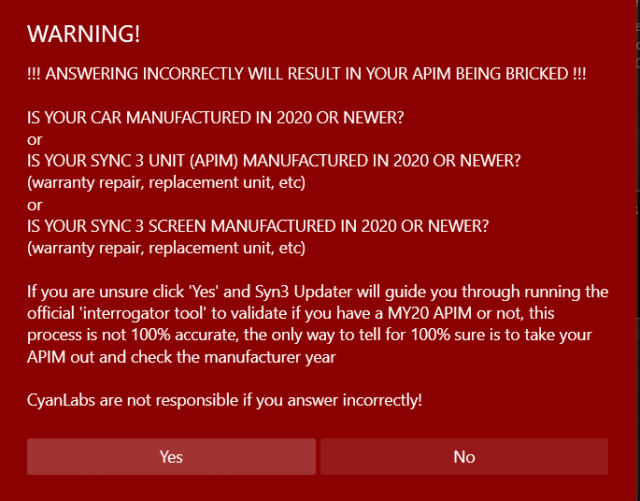 Once done, eject the USB and take it from your PC. Go out to your car, and fire it up. The car is supposed to be running during this process. This process, however, WILL take 30-50 minutes, so you'll either have your car idling quite a while, or you can go for a drive once the update begins. I chose to drive my car, and encountered no issues doing so.
Once the car is running and Sync has started (and it's at the Home menu), plug your flash drive into one of the USB ports in the center console. Within a second or two it should have a message on-screen mentioning it's beginning an update. Do not unplug the drive (even if Sync has a prompt saying it can be removed), and wait for the process to start. It will go to a basic screen, with a progress bar. It will go through 3 images; a Ford logo, a Mustang, and a Mustang logo.
Once this process finally completes, go ahead and unplug the USB drive, then turn off your car (and open/close the driver's door so the radio turns off). Wait a few seconds. Turn the car back to accessory (or on, if you want) and see if the radio starts with the new Sync interface now; it should. It will likely have some prompts about enabling auto-updates and uploading diagnostic data, you can choose to opt in or out of those.
Head to Settings, and find the option for a Master Reset. This is necessary to clean up the old files from your previous Sync version that are no longer in use. Wait for that reset process to complete. Turn the radio back off and on again.
If it has worked successfully, congrats! You now have fully-updated Sync 3.4 on your car!
If you have further questions, DM me on Instagram
@pizza_st_
.
Last edited: