Messages

13
Likes

12
Location
Hey everyone!
So I ended up buying that Fiesta ST that I posted about a few weeks ago. 2016, 46k miles, a few small mods, and I love it! It drives amazingly well and it's just great. Here's a photo of it: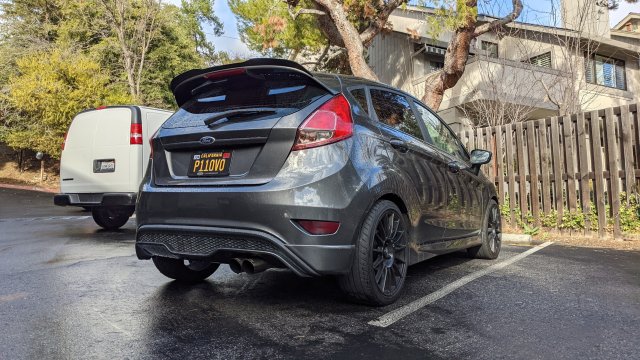 Now, however, I have run into an unfortunate problem. (A slightly ironic one because part of the reason why I bought the FiST now was that we've been having a ton of rain and I was driving my Miata as a DD until I found a new daily but my Miata's roof leaks...) Yesterday I went to track practice (I'm a coach) and let my runners put their stuff in the car while the ran. When we got back from the run, I noticed a good amount of water on top of the all-weather cargo mat. I figured the kids put their soaked clothes in there or maybe I left the hatch open too long so no big deal, I'll mop it up later. Today, since there was a break in the rain, I went to the car to mop it up. For the heck of it, I lifted the cargo tray/mat to see if any water had seeped through - lo and behold, almost 2 inches of water inside my spare tire well. Like a literal swimming pool of water.
I wet vacuumed it out and have been trying to figure out where it is coming from. I had someone pour water on the rear hatch area while I sat in the hatch and the only place I could see water leak from is the little plastic anchors/things that the torx screw screws into for the rear bumper cover (photos below). Has anyone else experienced this and have an idea for a fix? I was thinking maybe using some Permatex / RTV to create a sort of gasket around the little white plastic thingy. Should I also just replace the white plastic thing? Does anyone know the part number? Are there any other areas I should examine for leaks?
Thanks everyone.