Messages

4,098
Likes

922
Location
I will update the first post periodically for those that find it later.
My reason
My 2015 FiST is my all season daily driver. I tend to push things to their limits in terms of use and the perceived best part for the task at hand. I also tend to over analyze options or jump on a good value (no in between). The FiSt's mission is to be fun and last a long time as with my previous vehicles which were on the road all year for about 10 years with >400,000km. Basically we buy new cars and drive them into the ground. That said I love to drive, and living in a rural area there is always a reason to jump in the car for a quick drive.
I ordered the Molten Orange FiST fully loaded February 12th 2015 and picked it up June 22nd. Yes this is almost 19 long weeks. I chalk this up that the car is fully loaded (with the Canadian block heater) which pushed the build date to end of April, the railcar delivery was on the slow side and lastly left it 2 weeks at the dealership to get things done to line up my availability.
To be honest this is the first car I have performance moded so much so early. The others I have always repaired and replaced damaged/worn components with better components but usually nothing in the first 2-3 years. As with all new cars I did add anti seize to bolts I know I will touch in the future(brakes, battery, lugs, etc...) and dielectric grease on electrical connectors (especially the block heater).
As of October 15th 2016 I have on the car:
1- No-pistons parts (excellent parts):
----a. Accelerator pedal spacer
----b. Dead pedal
----c. Battery strap
----d. Evap Skid plate
2- Xenondepot H11 led kits
3- Diode Dynamic Luxon LED fog light assembly
4- Putco H1 Nova blue Halogens
5- Interior LEDs, ultra white
6- Mountune rear winglets
7- Mountune blue intake silicone hose
8- Mountune blue boost hoses
9- Mountune Charge pipe
10- Mountune blue intake silicone hose
11- Mountune MR230 with MTune
12- Moutune Hi-flow Catback exhaust
13- Moutune RMM
14- Proclip passenger mount for Accessport
15- Cobb exhaust hangers
16- 64gig micro USB/SD for music
17- Rally Armor mud flaps (black with orange logo) only available from CJ Pony Parts or Spool Tuning
18- Mishimoto Fiesta ST oil catch can with blue hoses
----a. DIY drain kit
19- Orange Shift knob with reverse lock out
20- 35% Tint all windows
21- Undercoating, fabric protection and paint protection; I have done this to all vehicles and it tends to help (I think). Especially the thick undercoating stuff used, the rest meh.
22- Husky Weatherbeater floor mats
23- Ford Fiesta illuminated sill plate (not the ST variant as it is too plain and there are enought ST logos in the front)
24- DHM direct fitment intercooler in black
25- 4mm aluminum Skid plate; for the environment I want to prevent gravel/sand/snow kicking into the engine bay. Found one from Skidplateguy on facebook
26- DR650S-2CH WiFi dashcam (hardwired)
27- White LED bulbs for the license plate
28- Reverse white LED bulbs (Putco Plasma)
29- Gentex 453 Auto dimming mirror with homelink; got it used from a wrecker
30- FL-400S larger oil filter
31- Fumoto qwik valve F106S oil drain valve
32- Fiesta ST Chrome Brake insert
33- Redline Goods Shift boot
34- Redline Goods padded armrest
35- Ford Fiesta Black Aluminum rims (summer)
36- Pirelli Sottozero III 215/45R17 winter tires on the stock Rado Grey rims
37- Moutnune Symposer delete
38- Black mirror covers
39- CFM Oil cap breather
40- Ford Shark fin antenna
41- Orange tire valve caps (no real point but hey why not)
42- Orange lugs nuts (won a ebay bid got 20 for $20; not sure how they will do)
43- Ultimate Short shift kit. Booba
44- Clear bra/film for winter protection
45- Putco 3157 Plasma LED brake lights
46- Mountune Strut brace
47- Mountune lower frame brace
48- Mountune front splitter
49- 2016 oil dip stick (can actually read the oil level)
50- Eibach rear brace
51- Under hood lighting
52- GFB DV+
53- Boomba Racing Blue coolant and brake reservoir caps
54- Boomba Racing Red Dipstick Handle
55- Ford rain guards for the windows
56- Mishimoto trunk Brace
57- Ramair foam filter
58- Federal RS-R 215/40R17
60- Black Ford Racing 15 spoke 17" wheels
61- Stop Tech slotted rotors
62- EBC Red stuff brake pads
63- SS brake lines
64- Motul 600 brake fluid
65- MR230 Mtune map require DP
66- Full external LED conversion
67- Reversing camera system
68- Raptor Racing Ceramic Coated downpipe
69- B14 coil overs
70- SpecD tailights
71- Mountune radiator hoses
Future Ideas (subject to change):
1- Sound proofing in the truck and wheel wells to reduces the gravel ping sounds.
2- Automatic liftgate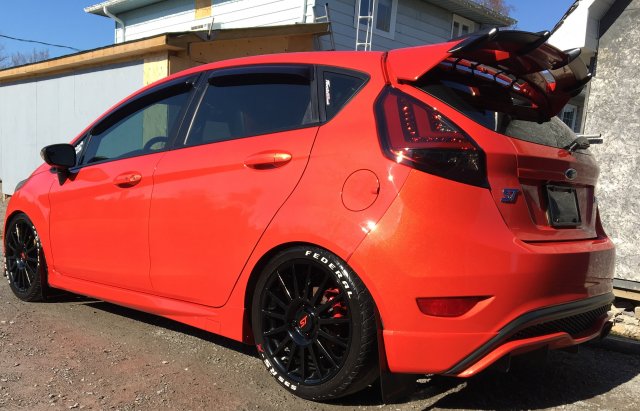 Last edited: