Messages

420
Likes

108
Location
I am having a recurring issue with my AC that will eventually require the compressor being replaced. My dealership, while pretty mod friendly, is giving me a hard time about my intercooler, saying it is pushing back my core support. This obviously is not true or possible, but I am trying to be proactive for the inevitable argument about mods causing the issue by restoring the front end to as stock as possible with a bigger turbo.
To be clear: the crash bar/intercooler do not affect the radiator core support, this will not cause any problems on an otherwise functional vehicle.
I'm asking for local interest before I purchase a different intercooler because it is going to be a SOB to pack the parts up to ship and I'd rather not deal with that when I'm not really excited to be selling them in the first place.
I'm located in Murfreesboro, TN. The parts have about 23k miles on them, Fully functional and still installed on my car. The crash bar is red flake powdercoated, not sure what the color is called but it is pretty close to the MO paint. I figure $750 picked up is a fair price. I also have a shaved front grille I'll include for an additional $50, minus the ST badge (I'll need that for a new grille), or we can swap grilles if yours is stock.
I'm happy to provide any additional info and I will remove the bumper to take pics if anyone is interested. I'll drive a reasonable distance to meet up for a sale. Below pictures aren't very recent and are intended only to give an idea of what is up for grabs.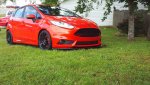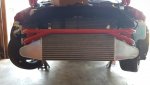 Last edited: