Messages

205
Likes

32
Location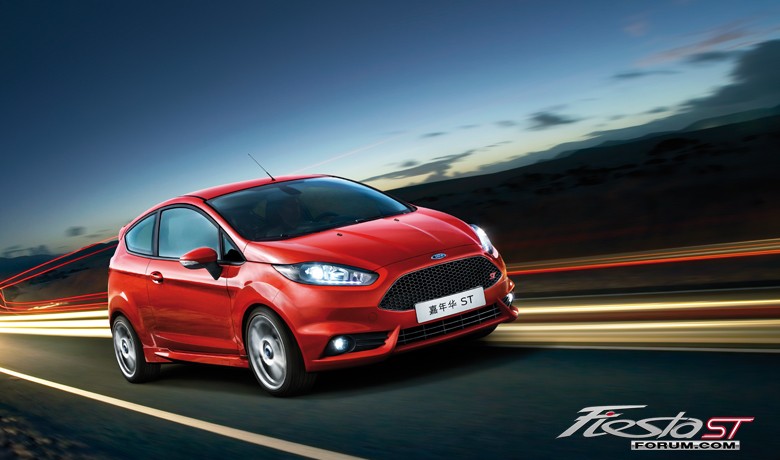 Ford Motor Company brought the new Ford Fiesta ST - the fastest and most dynamic small production performance hatchback ever, to Chinese customers with a price of 185,900 RMB. The Fiesta ST is the second Ford performance car to be introduced in China
after the Focus ST. By having the Focus ST and Fiesta ST, Ford offers more choices to customers who desire to have a fun driving experience and care about daily practicality.
Since its successful Asian debut at Auto Shanghai in April, the all-new Ford Fiesta ST has attracted many performance vehicles enthusiasts. Developed by Ford Team RS, the European arm of Ford Motor Company's Global Performance Vehicle group, the all-new Fiesta ST model shares the same Ford ST DNA around the world, offering outstanding performance, harmonious balance and high levels of refinement that make them ideal for everyday driving - whether on the commute or a twisty road.
"The compact body of the all-new Fiesta ST bursts out great power and fantastic handling capability, which will definitely impress Chinese performance car customers," said John Lawler, Chairman and CEO of Ford China. "With improved fuel efficiency, the Ford Fiesta ST is a unique blend of dramatic styling and exhilarating on-road performance with true practicality for everyday use."
The new Ford Fiesta ST packs a punch under the hood with a new high-output variant of the advanced 1.6-litre EcoBoost four-cylinder engine, 134 kw of power, 240 nm of torque, 0-100 km/h in 6.9 seconds, and a top speed of more than 220 km/h.
The engine uses technologies including turbocharging, high-pressure direct fuel-injection and Twin-independent Variable Cam Timing, mated to a six-speed manual transmission specially developed for Fiesta ST to deliver powerful driving dynamics with outstanding fuel economy.
Compared to the standard Fiesta, the electric power-assisted steering on the Ford Fiesta ST is more direct and responsive. Ford's enhanced electronic Torque Vectoring Control helps reduce under-steer during hard cornering maneuvers. The three-mode Electronic Stability Program - standard, sport or off - enables the ST driver to select the amount of electronic aid based on current conditions. The rear axle gets increased roll stiffness to improve stability through fast corners, while the Fiesta ST body sits 15 mm closer to the ground. The Ford Fiesta ST debuts rear-disc brakes on the Fiesta platform and introduces a larger tandem brake master cylinder that boosts braking performance. Overall, the Ford Fiesta ST provides enthusiastic drivers with the ideal mix of performance handling and ride comfort. All these technologies were put to the test over 5,000 kilometers of driving on Germany's Nurburgring Nordschleife.
Available exclusively as a three-door hatchback in China, the new Ford Fiesta ST will be Ford's first three-door offering in the country. Inspired by the global Ford Fiesta race and rally cars currently competing on the world stage, the three-door Fiesta ST looks sportier and more agile, reflecting the aspirations of three-door buyers and signaling its dynamic driving quality. The Ford Fiesta ST features a large trapezoidal grille with a unique honeycomb construction and dramatic rear diffuser element. Bright tipped dual-exhaust pipes and a high-mount spoiler along with unique 17-inch wheels complete the visual package. The Ford Fiesta ST looks like it's made for the racetrack. The car is available with Molten Orange and Ocean Blue tri-coat metallic paint.
The refined high-contrast interior is equipped with Recaro seats and features carbon fiber dashboard inserts, alloy-metal pedals, and an ST steering wheel.
As a powerful performance car, the all-new Fiesta ST has a full range of advanced in-car smart technologies, including the voice-activated in-car connectivity system Ford SYNC with Emergency Assistance, which directly connects vehicle occupants to local emergency services operators after an accident. The Ford Fiesta ST will be available with MyKey, which allows owners to set maximum speed and audio volume limits, and ensures safety features are not disabled, when allowing use of their car.
The Ford Fiesta ST will not only look good but will also sound good on the open road. It features the passive version of the sound symposer first used on the Ford Focus ST, to provide an enhanced soundtrack for drivers out tackling the open road. It is unique for Fiesta in that for the first time the engine sound is directly fed into the passenger cabin to accentuate feedback quality and response.