Messages

3,282
Likes

1,609
Location
Once upon a time there was a company called DHM... Sorry, this won't be that interesting or long. You can search for the rest if you don't know it, because it's long, complicated, and at times, nasty story. Anyway, back in the heyday a few others, and myself did a little bit of datalogging. I'm just gonna dump a bunch of logs in vdyno's for you.
Here's the parts set up: DHM 450r (Gen 1 GTX2867r) kit, DHM Race Intercooler and Crash Bar, MBRP catback, Mountune Silicone Hose and Filter for intake. STOCK Fuel system on 93oct.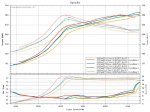 Now, before I get to the obvious objection, I'd like to answer "why am I doing this?" Well, because I have the data from my car that clearly shows 300whp on the stock fuel fuel system. Keep in mind this was 2 years ago, at least. So, moving on, the objection is: "Is this safe?" My reply would be "what's the lambda?" I'm going to give you what I know... There are many blanks as my knowledge is shallow, and I won't make anything up to cover them, so hopefully people can add, or subtract, so on and so forth. This is only what I've learned about tuning in general.
E10 93 oct stoich is ~14.11; which equals a lambda of 1. However, the wideband O2 sensor will give a reading of 14.7...because lambda of 1 has been achieved. That's the calibration on the wideband O2 sensor. In other words, the wideband sensor works on lambda and not AFR. With that in mind, let's move to the AFR equivalence ratio using the stoich number for E10 93:
Lamda = (Actual AFR) / (14.11) = 14.11 / 14.11 = 1
Wideband see's a lambda of 1...it shows 14.7. Again, that's the way it's calibrated (lambda 1 = 14.7 AFR) and it scales as such.
Now, let's take a look at what happens up top in the vydno here.
13.3 / 14.11 = .94
13.7 / 14.11 = .97
13.2 / 14.11 = .94
12.8 / 14.11 = .90
.95 is the lambda which is considered best for power. So, looking at these runs, @7200rpm 13.7 is a bit lean, but 12.8 is rich (it's also a much earlier log). BTW, I used 7200rpm because it's already made 300whp by that point, except the 299whp run. Why keep running it out to 7400? I'm not sure...breathing room? If it were going to pop from 200rpm more, it was bound to pop anyway.
Oh, yeah...you probably have one lingering question. It's probably along the lines of "then why do other tuners have lower AFRs?" Here's the math... 12.8 / 14.7 = .87 (richer, not optimal for best power).
So, yeah, there it is. It's important because misinformation spreads quickly and some people have strong bias regarding this platform's potential. Those people will tell you that you don't need more than X amount of power and have alternative facts to support their agenda. It's also important because 300whp (and 300wtq) has been one of this forums moving goal posts. In the past, we wanted 200whp, then 220whp, 250whp... The current meta is hybrid turbos, so people will easily believe someone who says 300whp is impossible on the stock fuel system and that it's dangerous. I created this thread with the intent to inform that that is not completely true.
At the end of the day, I hope I'm not just a complete idiot (I'm ok with half idiot). Please research all of this if you'd like and I welcome anyone to drop more knowledge and experience (read: research and data, not opinions) because this is only what I've picked up, and what I've learned from hitting books.
P.S. - This vydno is just for fun. This is the same parts and fuel, but with aux fuel added. I saw the logs and thought, why not?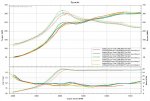 Last edited: