Messages

74
Likes

62
Location
Hey Everyone, this is the first installment of the Ebay Chronicles, where i review generic, cheap, or cloned items available for our platform on sites like Ebay and Aliexpress. Ive been a car enthusiast for years and have built many fun and interesting projects, but with my Fiesta ST I have decided to build on a very small budget and really try to maximize my fun per dollar ratio. Aside from buying mainly used quality parts, Ive decided to roll the dice on some less critical parts and see if there is anything available for our cars on ebay that is not complete garbage. Its always fun to be a guinea pig and take a bit of a gamble on stuff that wont leave you stranded if it fails!
Today I am looking at the unbranded aluminum shift knobs available on Ebay:
https://www.ebay.ca/itm/For-2015-16...a=0&pg=2047675&_trksid=p2047675.c100005.m1851
I purchased mine for $31 including shipping from china. Ebays SpeedPak shipping is pretty quick and I only had to wait 8 days before mine showed up at my house. The package was a grey envelope, with just the bare shift knob inside wrapped in bubble wrap. The first thing I noticed about the shift knob was how nice the machining was of the aluminum. It has a nice soft brushed feel with no hard edges, tool marks or any visible scratches or flaws on the exterior. I was kind of suprised how nice it was to touch actually.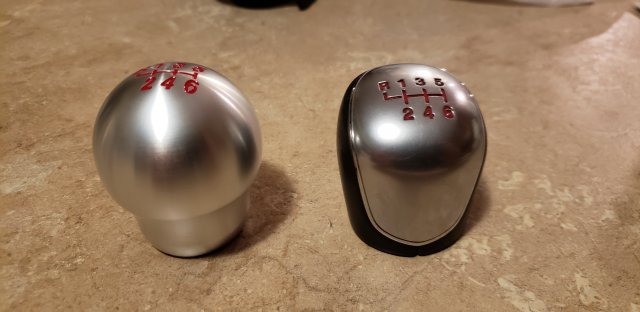 Here it is next to the stock shift knob. The aluminum one has a near identical weight as the stock one, which i feel is sufficient for our cars transmission. I had to use a 500gram weighed shift knob on my 2017 WRX because of how shitty and terrible feeling that cars cable transmission was, truly the worst ive ever experienced. The Fiesta in comparison has a great shifting gearbox and doesnt need the added leverage a weighed shift knob provides.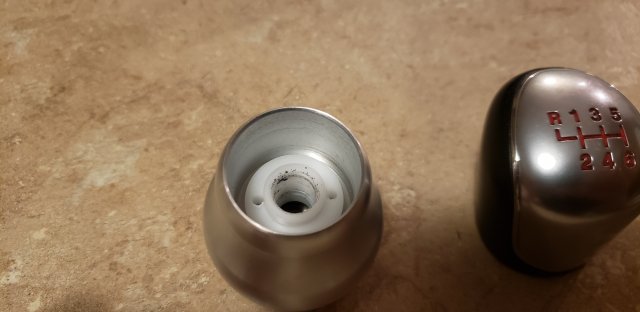 The threads are plastic which is acceptable for the price of this shift knob, and comes with provisions for the reverse lockout. I would avoid overtightening the plastic threads in the event the threads strip.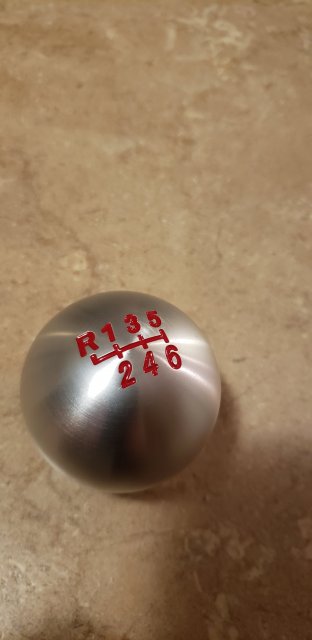 There are two available colours for the lettering, I chose the red to match my stitching and exterior colour, but black is offered as well. The numbering and shift gate is nicely filled, with no shitty paint coverage. One thing I noticed about the cut out numbering is that the edges are ever so slightly coarse. Its not a deal breaker for me and is hardly noticeable but worth pointing out.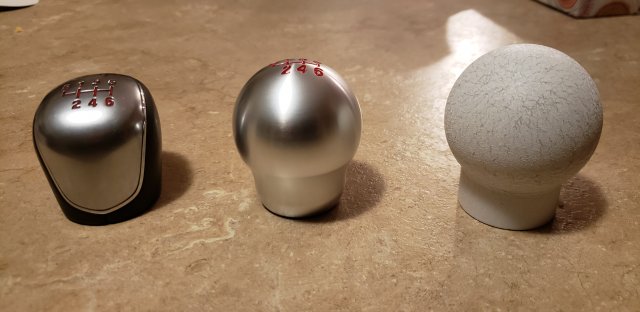 Here is the aluminum shifter compared next to the stocker and my previously mentioned 500 gram ball shifter. The white one is just too heavy for use in the Fiesta ST.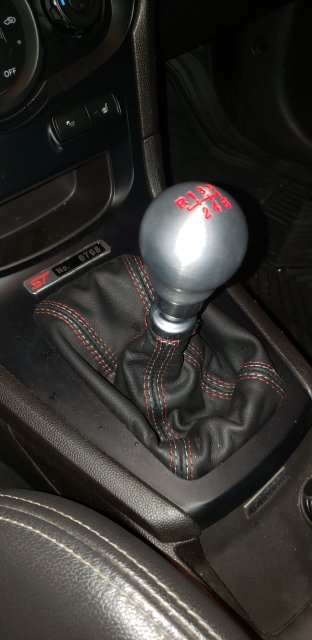 Here it is installed in the car. Its very comfortable to use and the reverse lockout works perfectly.
Overall I believe that this shift knob is great value for money and is a great replacement for the ugly awkward stock knob. Ive always felt that shift knobs are stupidly overpriced for what you get in return and this aluminum one is great for someone who just wants a good quality replacement and doesn't want to pay $150+ for some limited edition showpiece. Next product I will be reviewing is the Wagner intercooler clone and boy, was that a fun one to wrestle with. Until next time!